Welcome to our very first 'Drink of the Month'! Each month we will be unveiling delicious cocktail and mocktail recipes alongside some of our favourite drinks brands.
With a range of ice for all occasions, we'll be making drinks throughout the year to turn your ordinary refreshment into an ice cold masterpiece.
First up our January Drink of the Month is a refreshing mocktail recipe put together by our favourite fruit farm Belvoir!  This delicious Raspberry Ripple mocktail is sweet and delightful and great for those who are powering through Dry January. And, even if you haven't managed to stick to Dry Jan, its perfect as a mid week refreshment, paired with our Premium Ice Cubes. Try this simple recipe below and be sure to tell us what you think.
Ingredients…
Method…
Add 1 handful of ice and all the other ingredients to a cocktail shaker. 

Shake and strain into a glass over 2 handfuls of ice. 

Garnish with a watermelon chunk and serve!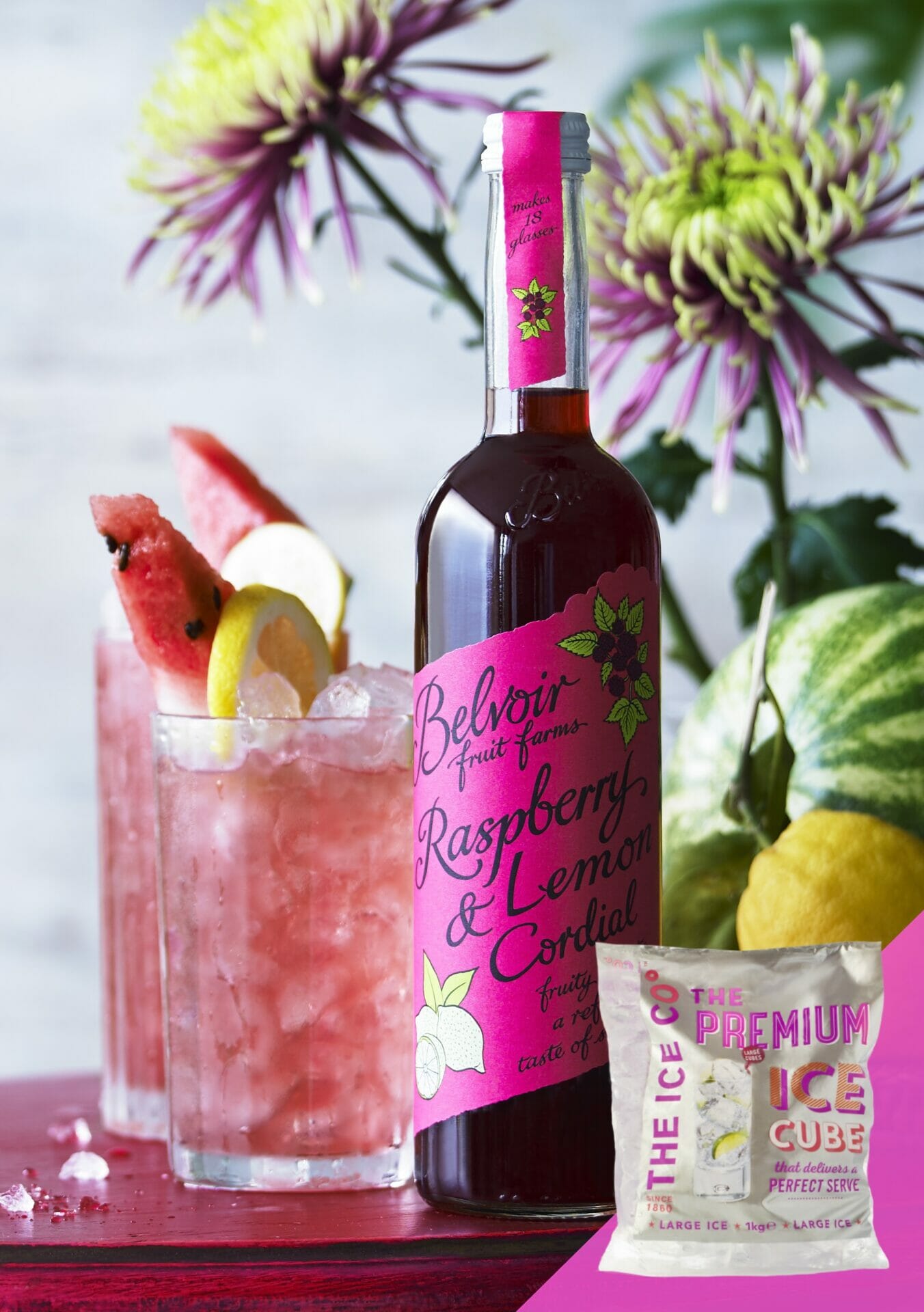 It's perfect as a mid week refreshment, paired with our Premium Ice Cubes
Belvoir Fruit Farms offer a range of mouth watering cordials and soft drinks. After tasting how good they were, we were keen to find out more about their naturally lovely drinks and to understand some history of how they got started. Here's our short Q&A with Belvoir…
How long have you been creating great tasting cordials?
We've been pressing fruit and fresh flower since 1984, and infusing them into spring water to make our Cordials and sparkling Pressés.
What is the best thing about Belvoir drinks?
They are made with only natural ingredients, no nasty additives or preservatives.
Are your naturally lovely drinks best served ice cold?
Resoundingly – YES! – And we know just the place to get all our lovely ice; nudge, nudge, wink, wink!!
What is the Belvoir Fruit Farms ethos?
HONESTY – QUALITY – ENJOYMENT …We would like to enrich peoples lives through the enjoyment of finer quality, honest soft drinks!
Tell us 3 fun facts about Belvoir Fruit Farms?
In the summer at the end of May/ start of June all the Elderflowers come into bloom, and we and all the local community rush out to pick them (hopefully in the sunshine!?) and bring them back to the farm to be made into our deliciously refreshing Elderflower drinks! We pay all our pickers by the Kilo of flowers brought in, so quite literally, money does grow on trees!!
We are still a family owned and run business. Our MD's mother, Mary Manners, developed our signature Elderflower Cordial in her kitchen and it is still the recipe we use today.
When new Cordial flavours are created they are always brought around the office for all to taste in their development stage; everyone really gets involved and opinion counts.
Special thanks to Belvoir Fruit Farms for this delicious recipe. Their Raspberry & Lemon Cordial is available to buy from major supermarkets and online.
Our Premium Ice Cubes served in this mocktail are perfect for long or short refreshments, which always deliver the perfect serve!