The 19th September is a special day for rum lovers as it marks the occasion of National Rum Punch Day. Woods Rum kindly gave us their expert opinion on how to serve it best! We couldn't wait to find out more which is why we spoke to the brands rum specialist Calum Fraser to learn more about them…
Where does Woods Navy Rum originate from and where is it distilled today?
Since our creation in 1887 by 'The Woods Trading Co' we have always been distilled singularly in The Diamond Distillery in Guyana. Wood's Trading Company were based in Liverpool and blended together the casks coming off the boats to a recipe we still use today.
What is the perfect Woods serve?
Our simple serve would be a Wood's and cloudy apple juice. A measure of Wood's Navy Rum in a tall glass filled with ice and topped up with whichever cloudy apple comes to hand. For those feeling more adventurous, we love a Jungle Bird:
40ml Wood's Navy Rum
1 handful of Premium Ice Cubes
15ml Campari
50ml Pineapple
15ml Lime Juice
15ml Sugar Syrup
How does a large slow melting ice cube benefit the serve?
A single cube is definitely the preference of the bartender. Your goal is to keep the drink as cold as possible with minimal dilution. When you keep surface area to a minimum you reduce the speed that the ice melts, this keeps your drink tasting as it is intended to make sure every sip is a good as the first. For visual impact it's best used in stirred, clear drinks.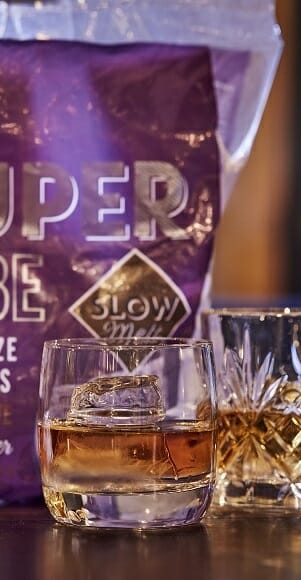 What is the story behind the brand name?
We don't know a lot about Mr Wood to which we owe this liquid. We know the Wood's Trading Company was established in 1887 in Liverpool and the recipe was exceptional enough for him to put his name to it. So we haven't changed either since. Navy Rum refers to our strength of 57% abv, this was the strength issued in the Royal Navy as their daily grog from 1740. Also known as 100proof, it is the strength at which gunpowder mixed with the rum would still catch light.
What's next for Woods Navy Rum?
The Rum sector has grown quickly over the past two years, so we're excited to see that continue. We know consumers are moving away from white rum to darker variations and they are premiumising their choices, all of which is very exciting for a liquid like Wood's. We have a recipe that has stood the test of time and a provenance that you can't manufacture, so we're very excited to see people gravitate towards our end of the rum spectrum.
We've loved getting to know our friends at Woods Navy Rum and are excited to try more of their recipes soon! Woods Rum is available to buy from Morrison's, Sainsburys, Waitrose and Asda. And, why not try some of our rum cocktails for a small crowd?