Introducing Chloe Busby from our team of Summer Heroes, here to share ideas for ways to keep all the family entertained this summer. Chloe is a mum of 4 from London. We love Chloe's approach to parenthood and enjoy keeping up to date what the Busby family get up to. 
For even more fun The Great Summer Freeze is your 'go to' guide. It's all about inspiring you to get creative with friends and family, along with a chance to win some great summer prizes and making summer 2020 the best one yet. First lets start with 'Summer Drinks with the Busbys', delicious recipes for all the family!
Over to you Chloe…
It's finally summer and that means (hopefully!) lots of sunshine and warm weather! My kids drink lots of water but as a little treat every now and again I like to surprise them. I recently made the kids Watermelon Lemonade (see recipe below) and the first thing they said was "it's so fancy!". It was so simple, yet so loved! 
In this blog I'm going to share 5 non-alcoholic cocktails that are perfect for the kids, if you're pregnant or just want nice alcohol free options. They're all delicious and will definitely cool you down when things get hot.
1. Watermelon Lemonade
A super simple recipe and also quite a novelty as you can serve the drink in the watermelon itself! This is one of the kids favourite drinks. They're always so excited when I tell them they're having watermelon lemonade.
You will need:
x4 Handfuls Party Ice
x1 Watermelon
Top up: Lemonade (no added sugar)
Garnish: Mint & lime (optional)
Simply cut a watermelon in half and scoop out one half of the fruit, mix in a blender or use a fork to mash. Once ready add to a separate bowl, top with lemonade and give it a good mix. Add Party Ice to the empty watermelon half and pour in the watermelon lemonade mixture. Garnish with mint and lime and enjoy!
2. Roy Rogers
You might be wondering why this cocktail is called Roy Rogers, well it was named after the actor and singer and is a non-alcoholic drink. The kids were excited to try this one as it contains cola!
You will need:
X3 handfuls Party Ice
X1 splash grenadine
Top up: Cola (I used zero)
Garnish: Cherries
Add Party Ice to a glass/jug, then add grenadine and fill to the top with cola. Garnish with cherries on top and serve.
I was right, the kids loved it! Darcie had a sip and probably would've drank the whole jug if I let her. The kids were keen to eat the cherries too. I think drinks like this are a fun novelty as they also get kids eating fruit.
I was right, the kids loved it!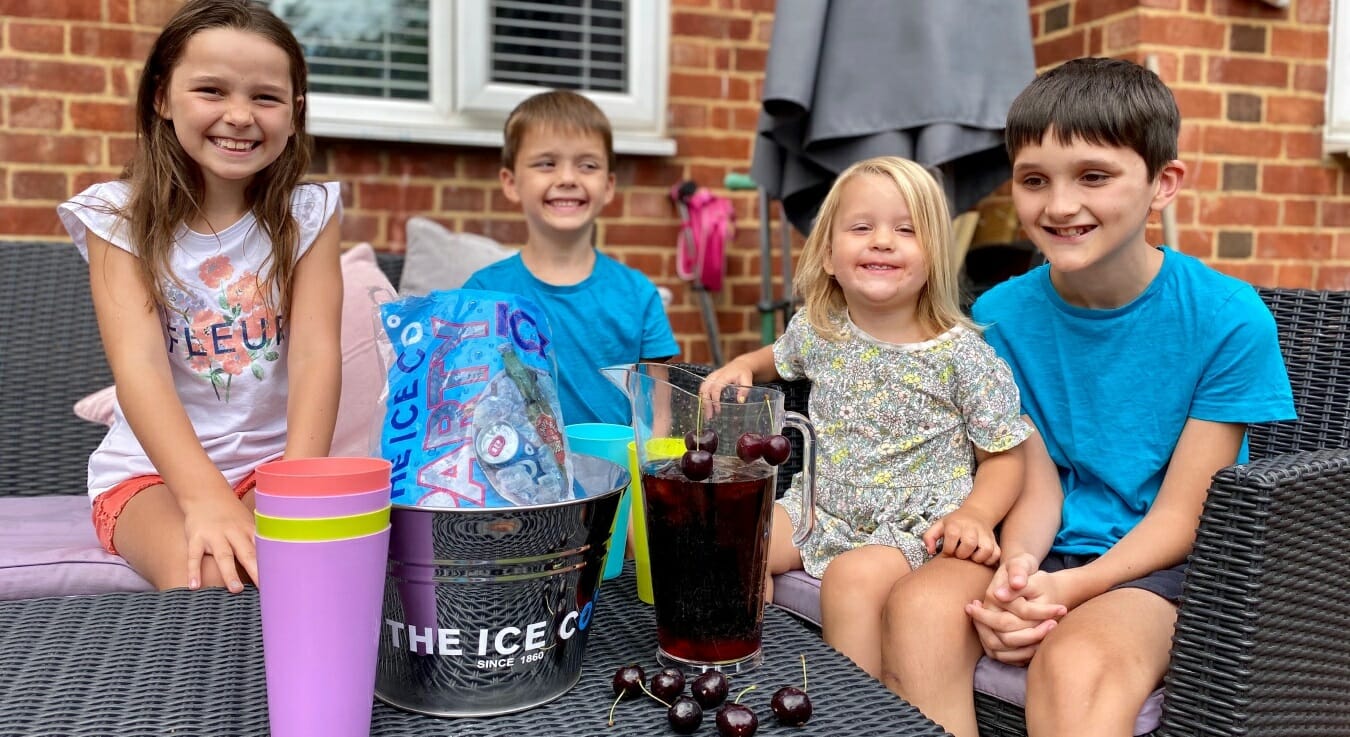 3. Fruity Mocktail
The kids were so excited to try this one. They looked like they were on holiday enjoying a mocktail in the sunshine!
You will need:
X1 handful of Party Ice
X1 handful grapes
X1 handful blueberries
X1 splash of grenadine
Top up: Orange juice & sparkling water
Other: Bamboo skewers
Place the grapes and blueberries on bamboo skewers. Add a handful of Party Ice to a glass, a splash of grenadine and add orange juice until it's 3/4 full. Fill to the top with sparkling water to give it a fizz! Place the skewers on top and serve.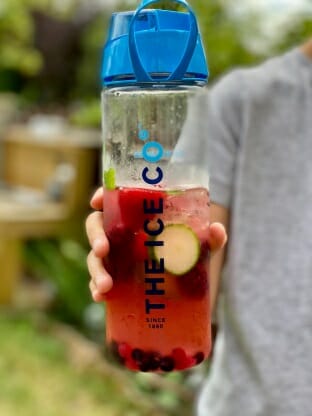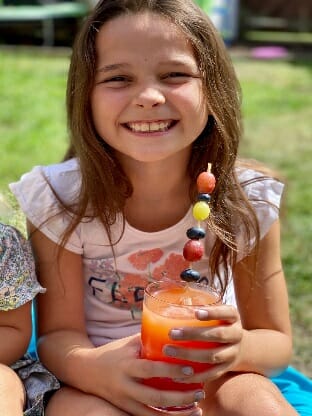 4. Summer Mocktail
This mocktail screams summer- after all it is in the name!
You will need:
X2 handfuls Party Ice
X1 handful frozen red berries
X1 handful mint
Top up: Lemonade
Add all the ingredients to a glass or bottle and stir well and enjoy. This makes the perfect drink for a summer BBQ! The kids won't be feeling left out with this. This was Archie's favourite. I put it in their Ice Co bottles, and they enjoyed their mocktail on a hot day in the garden!
5. Peach Ice Tea
Okay so this one isn't exactly a mocktail but it is a delicious summer drink!
You will need:
x200g granulated sugar
x5 ripe peaches
x4 teabags
x2 handfuls of Party Ice to serve
This involves a bit of cooking…First dissolve 200g granulated sugar in 300ml of water in a saucepan, add 4 of the chopped peaches until cooked. Mash the peaches into the liquid and leave for 10-15 minutes. Add 4 teabags to 1000ml of hot water and leave for 2-3 minutes. Put the tea flavoured water in the fridge to cool. Sieve the peach mixture to get rid of any lumps and add to the cold tea. Add sliced peaches and ice to the drink to finish!
The Ice Co and Chloe would love to hear if you have tried out any of the drinks! Don't forget to tag us both on social when you do @the_ice_co & @lifewiththebusbys. We'd love to see your creations. #SummerFreeze #JustAddIce 
Have an amazing summer!
Special thanks to Life with the Busbys AKA Chloe Busby for putting together this perfect selection of drinks for summer.
Are your children making fun mocktails, smoothies and juices this summer? Submit them in our recipe competition and the recipe could feature in our recipe book and on 1 million bags of ice!