When it comes to wine, the experts at Kingsland Drinks know what they are talking about! With 65 years of experience they know their traditional dry sauvignon blanc from a modern Italian red. And as we don't like to miss out, we asked them for some advice on what we should be drinking this summer…
If you love your wine then this is the perfect guide for you.
A wine for when you're catching the last bit of sun before sunset, Kingsland Drinks would recommend…
The Ned Sauvignon Blanc
A classic, warm vintage expression of Waihopai Valley Sauvignon Blanc. A lifted perfume of lime leaf, passion fruit pulp and fine mineral complexities are delivered on a palate that sets plush, smooth textures against a nervous tension created by bright acidity. Available to buy from Morrisons.
You will like this if you like: Dry, crisp & fruity wine.
Goes well with: Thai Fishcakes, now that sounds delicious.
When you have all the family round for a BBQ, Kingsland's recommendation would be….
The King's Favour Sauvignon Blanc
It can be described as an attractive and intriguing bouquet of citrus blossom and lime. Hints of fresh herb, fennel and musk add complexity and interest. A precise yet rich palate, with flavours of ripe citrus, elderflower and sweet herb. This wine has texture, minerality, and juicy acidity giving length and structure. Available at Ocado.
You will like this if you like: Dry, crisp & full bodied Sauvignon Blanc.
Goes well with: Meat off the BBQ or if your opting for a night indoors fish and chips.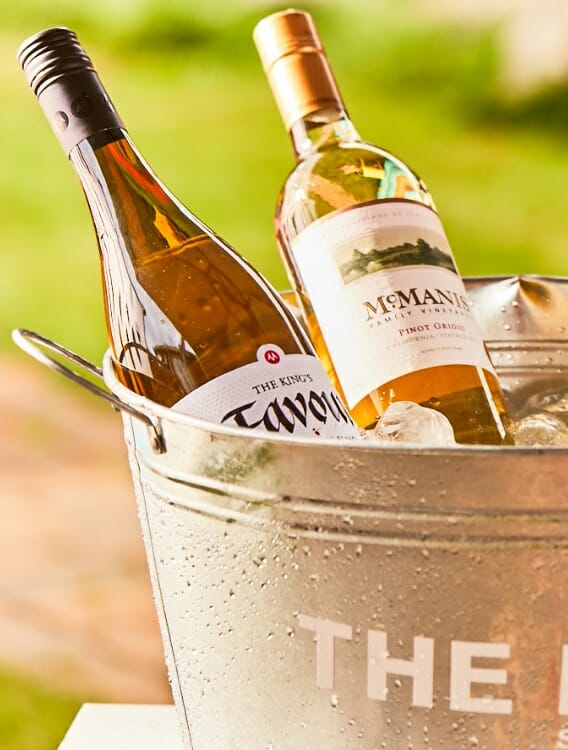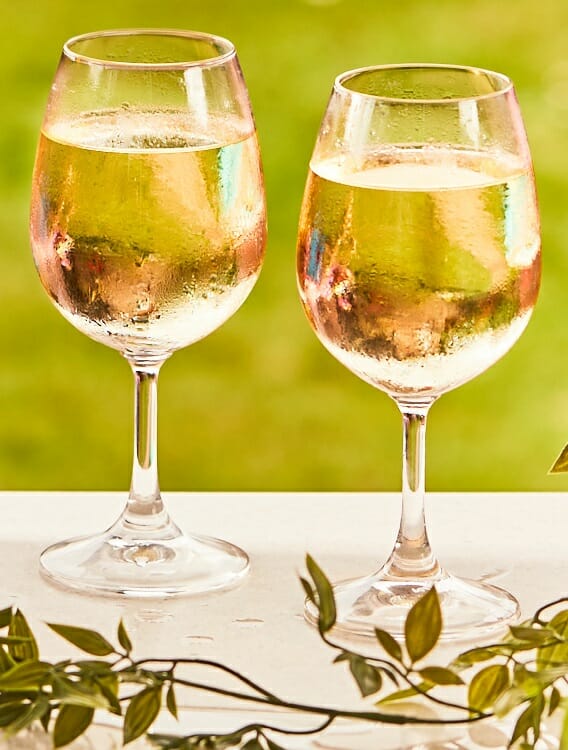 This wine has texture, minerality, and juicy acidity
If you're having a night in front of the TV after the little ones have gone to bed. Feet up, here's what to serve….
McManis Family Vineyards Pinot Grigio
Light straw in colour, this wine is a nose full of citrus scents with lemon, lime and grapefruit all present. While the wine is crisp, there is a noticeable weight to it. The flavours of Lemon, Lime and Grapefruit are all present. Available at Ocado or Skinny Booze.
You will like this if you like: Dry, crisp & full bodied Sauvignon Blanc.
Goes well with:  Chilli Nachos, here's a quick and easy recipe.
The moment when Boris announced we could meet with another household, this is the wine we'd recommend….perfect for sharing with friends!
Prince Alexandre Cremant de Loire
This gently sparkling wine from the Loire Valley is a subtle blend of Chenin Blanc, Chardonnay and Cabernet Franc. It has a fine, delicate mousse with inviting aromas & flavours of fresh pear, green apple & juicy peach. It is perfect for any celebration or as an elegant aperitif and is superb with shellfish – especially scallops. It is also a delightful partner for soft cheese with fresh fruit. Available at Waitrose.
You will like this if you like: Lighter style of sparkling wine.
Goes well with: Sushi and fresh salad. The perfect sharing platter for everyone to tuck in.
When you're right in the mood for a Sunday roast, this is the perfect wine to compliment….
Jacktone Lodi Chardonnay
Estate-grown in Lodi, California, an area blessed for its distinctive fine wines, this Chardonnay is family-grown and family-made. Using generation after generation of farming experience and strictly observing over 100 sustainable farming practices, it truly reflects its vineyard estate. Crisp and complex, bringing an array of fruit and citrus flavours to the table, it's a Chardonnay that's perfect to pair with light and delicate foods such as fish, shellfish, chicken and spring vegetables. Available at Tesco.
You will like this if you like: Dry, crisp & new world chardonnays.
Goes well with: Your Sunday roast, save a glass for after if you've saved some room for dessert.
Special thanks to Kingsland Drinks for their expert recommendations on what wines to drink this summer. Party Ice is perfect for chilling bottles, if you chill your wine over ice in an ice bucket it also means less trips to the fridge! If you like to serve your wine over ice we'd recommend our Premium Ice, available from most local shops.
Looking for more fun ideas of things to do this summer? Head over to The Great Summer Freeze. Fun for all the family!