In one of the biggest award ceremonies in the food industry, The Ice Co has won SME Brand of the Year at The Grocer Gold Awards 2020!
The Grocer Gold Awards are held annually by the industry leading publication 'The Grocer', and mark the achievements of companies and businesses in the food industry.
This year's event was held on Friday 13th November, and due to the coronavirus pandemic was held virtually, with the ceremony filmed for people to watch. The Ice Co team connected via a Zoom call to hear our fate and we are over the moon to have been awarded the title after striving for this award for many years.
The Grocer commented on our 'brilliant' and 'incredibly smart' strategy that capitalised on wider trends.
Ginny Woolhouse, Head of Marketing said "We are over the moon to have won SME Brand of the Year at The Grocer Gold Awards, and it's testament to our passion for creating exciting ice products that our customers want and love."
"There has been a real step change in the way consumers are enjoying drinks, with many now opting for higher quality tipples like craft cocktails and classics like G&T. By innovating our product range alongside this changing drinks landscape, we've been able to keep our ice products relevant and ahead of the game.
"We're really proud of all of our ice products, but Super Cubes have definitely been the biggest winner of the year. Customers love that they're three times larger than the average British ice cube, they melt slowly, cool quickly and look fantastic served with a G&T in a Copa de Balon glass."
We are over the moon to have won SME Brand of the Year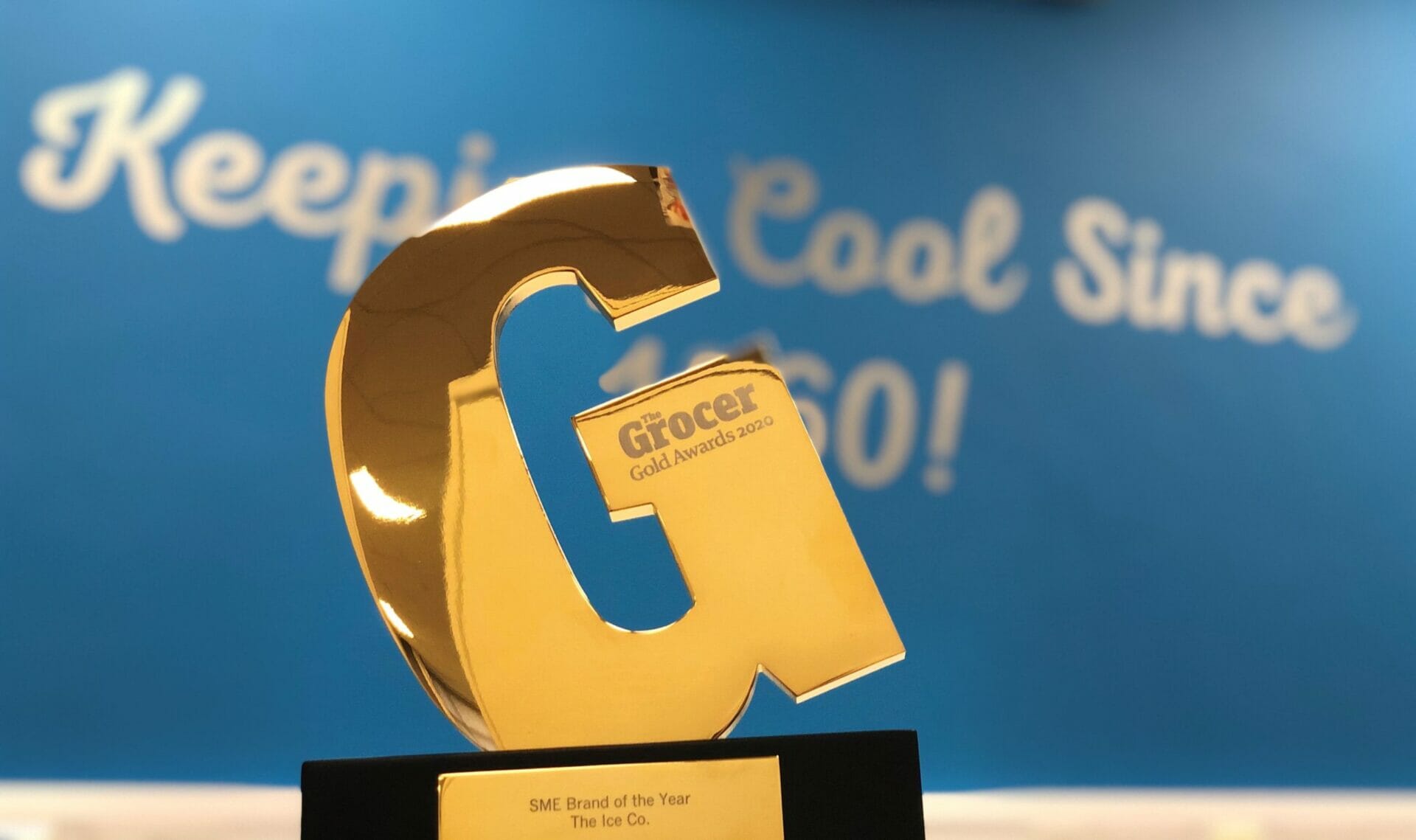 Like many other food and drink categories, ice is undergoing a premiumisation movement – led by people who want quality, premium drinks with equally superior accompaniments.
We spotted this trend and added two new lines to our ice portfolio, including Super Cubes and Premium Ice. Super Cubes really impressed the judges because of their superior quality, size and premium feel.
Our Premium Ice Cubes were also singled out as being for the more discerning ice customer, while also addressing a space issue for supermarkets.
One judge said "How clever to take a commodity like ice and market it alongside one of the biggest trends in FMCG – gin."
Polly Metcalfe, Managing Director of The Ice Co said "Winning Grocer Gold SME brand of the year has certainly made our year… and we all know what a year it has been! To be even nominated against these well known and loved brands was fantastic enough, but then we won!"
"It is for achievements such as these which make all the hard work worth it. It wouldn't have been achieved without our fantastic team of ice heroes! Congratulations to you all and thank you for being a part of our journey…"
We are so excited to see what 2021 has in store for us and we're looking forward to what's ahead.