If you're looking for delicious food and drink pairings, you're in the right place. We've teamed up with Foodie Lily to bring you six of the hottest recipes sure to make your mouth water. Here, you'll find three Mexican-style meals to choose from, along with three delicious drinks you can sup alongside.
On the food menu you'll find: Pork Pibil, Crispy Breaded Prawn Tacos, and Chilli Cheese Croquettes – and on the drinks menu you can go for a Picante, Passionfruit Gin Fizz or Paloma fizz mocktail – all of which are truly scrumptious! Keep on reading for the full recipes!
Pork Pibil
(Serves 8)
Why not add some Mexican zing into your weekend with this scrumptious Pork Pibil? Similar to pulled pork, this dish is perfect for the whole family, low(ish) fat, and freezer-friendly too.
Ingredients
2 tsp cumin seeds, 1 tsp peppercorns, 3 cloves, 2 tsp ground all spice, 4 tbsp cider vinegar, 100g achiote paste, 1 white onion, 4 garlic cloves, 450ml fresh orange juice, 1kg Pork fillet, 25g butter & 1 red chilli.
Method
1. Heat the spices in a dry frying pan for 2 mins then grind into a powder.
2. In a blender add the spices, vinegar, achiote paste, garlic and orange juice. Blitz into a paste. Add more juice if needed.
3. In a bowl cover the pork in the marinade, once completely coated cover the bowl in cling film and into the fridge to marinate for min of 2 hrs. Preferably overnight, if time allows.
4. To cook, heat the butter in a pan and add chilli. Then add the pork with the marinade and lightly simmer to gently cook for 10 mins all over.
5. Remove and place into an oven proof dish. Then into a preheated oven at 150C to cook for 3 hours until soft and the meat is falling apart.
TIP: Serve with fragrant rice and pickled red onion. To make picked red onion simply cover thinly sliced red onion with white wine vinegar, salt and sugar. Best to make in a jar to seal and give it a good shake! Leave for an hour before serving.
Crispy breaded prawn tacos
(serves 2-4)
There's nothing quite like a taco – a satisfying fusion of crunch and fresh flavours that never disappoints. These crispy breaded prawn tacos are no different – full of flavour and ready to satisfy your urge for a tangy crunch.
Ingredients
200g raw peeled king prawns, 1 egg, 70g Panko breadcrumbs, flour, paprika & tortilla wraps.
Sauce
Sour cream, hot sauce & salt and pepper.
Guacamole
Avocado, lime juice, coriander & crushed garlic.
Optional – Red onion and tomato
Topping – Lime, coriander, guacamole & lettuce.
Method
1. Mix all the sauce ingredients together and set aside.
2. Mix salt, pepper and paprika in flour.
3. Roll the prawns in the flour, beaten egg and then Panko breadcrumbs. Set aside.
4. Heat oil in a pan for frying, once hot carefully add the breaded prawns and cook for 1-2 mins on each side until crispy and golden. You may have to do this in batches.
5. Assemble your tacos with shredded lettuce, prawns, sour cream sauce, guacamole, coriander and lime.
TIP: Making your own guacamole, sauce and pickles are easy, quick and cheap to do and taste so much better fresh!
Chilli Cheese Croquettes
(makes 10/12)
Ingredients
300ml milk, 60g butter, 1/2 leek, 60g flour, 100g cheese, 1 red chilli, salt & pepper and paprika.
Coating 
1 egg, flour, 100g Panko breadcrumbs and sunflower oil for frying.
Method
1. Melt butter in a pan over a medium heat, add finely chopped leek and cook until soft.
2. Add flour and keep stirring, don't let it burn. Cook the flour through for a few minutes then slowly add milk. Season with a sprinkle of salt, pepper and paprika.
3. Continue to cook for around 15 minutes. The mixture should come away from the pan without sticking and not stick to your finger when touching it. Stir in the grated cheese and chilli.
4. Spoon into a dish and leave to completely cool.
5. To make the croquettes, roll the béchamel paste into balls/tube shapes. Roll them in flour, beaten egg, and then panko breadcrumbs. Set aside and repeat.
6. Heat oil in a pan for frying, cook the croquettes for 3/4 mins, turning to get the crispy sides. Lay on kitchen paper to get rid of the excess oil and serve hot!
TIP: You can make the béchamel paste the night before. The longer you leave to cool, the better.
These can easily be made vegan by using plant based milk, butter and cheese. Instead of egg for the coating use a little milk.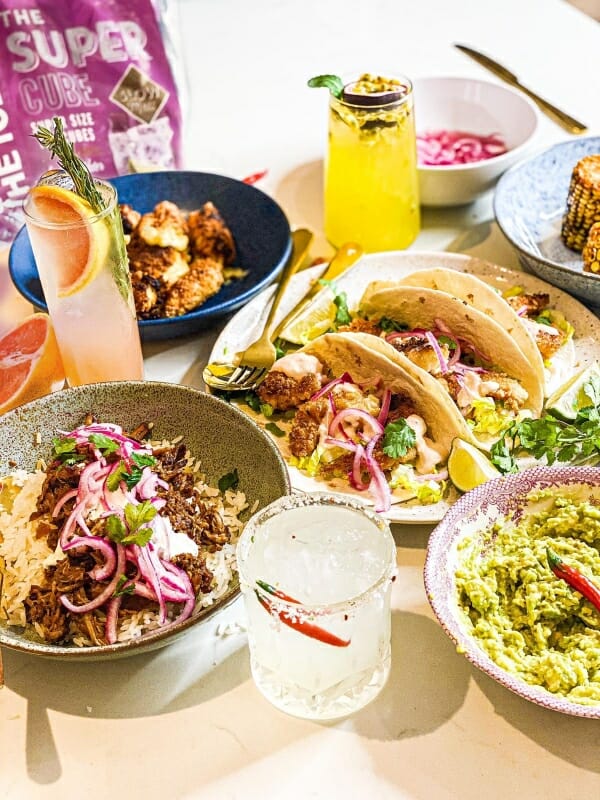 We love a good cocktail all year round, but these delectable drinks are perfect for an occasion, like your first outdoor gathering with friends and family, or an Easter celebration.
Picante
Ingredients
x3 Super Cubes or x1 handful of Premium Ice
x50ml tequila
x50ml lime juice
x3 sprigs of coriander
x1/2 red chilli, finely chopped
x1 tsp of agave syrup/honey
Garnish: Whole fresh red chilli, chilli flakes and salt
Method
1. Add all ingredients to a shaker with lots of ice. SHAKE WELL.
2. Strain into glasses filled with ice and serve with garnish.
TIP: Muddle the red chilli, coriander and lime juice together in the shaker before adding the other ingredients. This will release more flavour.
Passionfruit Gin Fizz
Ingredients
x3 Super Cubes
50ml Gin
150ml Passionfruit juice
Soda for topping
1 fresh passionfruit
Optional: Fresh mint
Method
1. Fill a tall glass with ice. Add gin, passionfruit juice and top with soda.
2. Scoop out half the passionfruit and stir into the cocktail. Garnish with the other half and fresh mint.
Paloma Fizz Mocktail (alcohol free)
Ingredients

x3 Super Cubes
150ml grapefruit juice
30ml sugar syrup
Top up: Soda water
Garnish: fresh grapefruit and rosemary
Method
1. Fill a highball glass with Super Cubes. Add juice, sugar syrup and top with soda water.
2. Garnish with grapefruit and rosemary.
TIP: It's easy to make sugar syrup. Simply add sugar and water to a pan and gently simmer until the sugar has completely dissolved. Set aside to cool. Your can add a sprig of rosemary to this for extra flavour.
You can find more cocktail recipes and Easter recipes on our recipes page, don't forget to show us your creations on Facebook and Instagram by tagging us or using the #justaddice