So, you're hosting a barbecue for the lads and looking to do things a little differently this time around. We get it – there's more to food and drink pairing than working out which wine will go the best. Aside from vino, there are some great barbecue and drink combinations that will leave your guests impressed and satisfied.
The right drink can enhance any meal, or even be the perfect welcome drink for when your mates arrive. Pairing cocktails with barbecue food might not seem that straightforward because of the multiple flavours on offer, but the beauty of it is you can experiment 'til your heart's content. The key to mastering cocktail and meat pairings is to contrast and complement flavours without them exactly matching.
The cocktail aficionados here at The Ice Co have put their heads together to bring you six of the best cocktail and meat pairings for the grill – but you can also check out other cocktail recipes your pals might enjoy too.
The ultimate cocktail and meat pairing – Classic Mojito served with jerk pork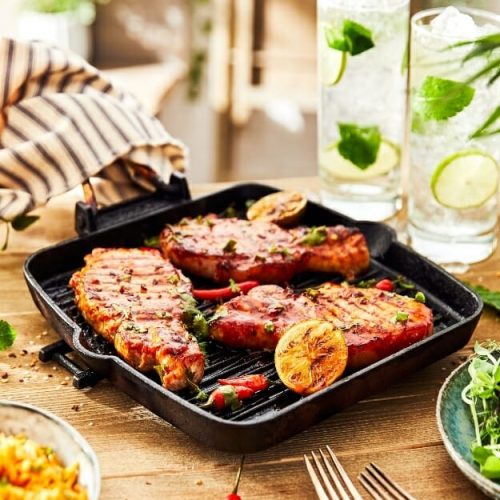 The cocktail and meat pairing for fruit-loving friends – Pink Ginberry with Chicken & halloumi veg skewers
Halloumi cooked over coals always goes down a treat. Offset the saltiness of the cheese with a fruity cocktail like this Pink Ginberry. But beware – it's pop-like demeanour means it goes down easily!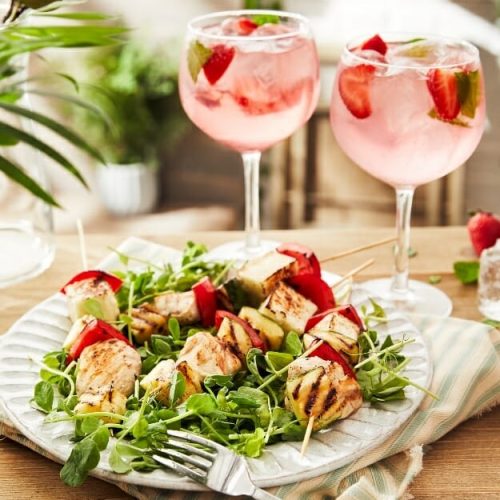 A bittersweet aperitif for the fans of the tang – Grapefruit Vodka Spritz with hot sauce chicken wings
Got a mate who likes to get red faced with lashings of chilli sauce? The fruity tang of this grapefruit cocktail perfectly balances the heat from the chicken wings – and the char from the grill adds that extra depth of flavour too.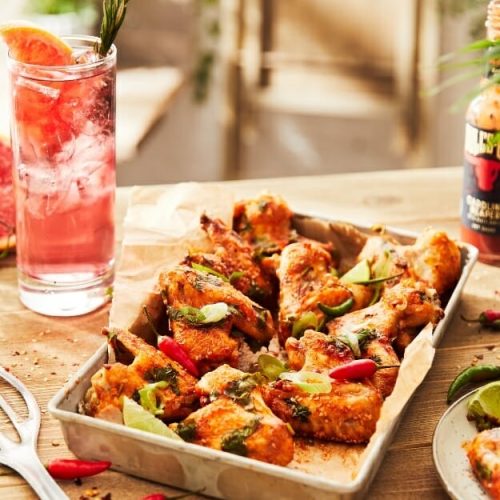 The cocktail and meat pairing for the surfer-turfer – Martini with steak and prawns
When in doubt, opt for a classic. This Martini is scrumptious with all barbecued food, but especially so with steak and prawns.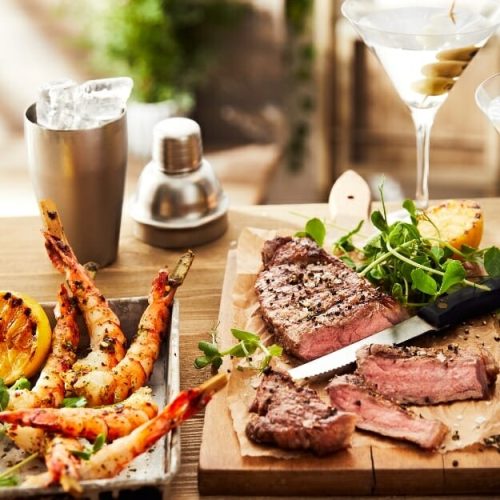 A classic barbecue combination  – beef burgers and tequila and coke
A burger cooked on the coals is a flavour to savour – add a tequila and coke into the mix and you're onto a winner! This drink is nearly impossible to get wrong – but make sure you have enough Super Cubes to go round!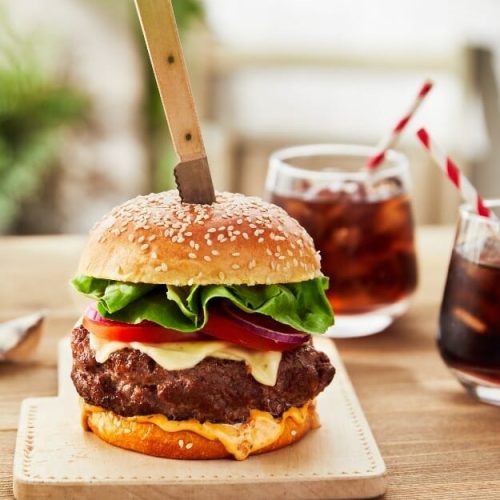 The ultimate pairing for seaside vibe
While we might want to create the ultimate meat-fest barbecue, a little bit of fish can help break things up. Why not try these salmon skewers with this White Wine Spritz? The key to a great white wine spritzer is to ensure the soda water is as cold as possible, so it's refreshing and light in equal measure.