Biscoff spead, Biscoff ice cream, Biscoff everything! The world has gone mad for the glorious Biscoff biscuit – and that's not without good reason. It offers a scrumptious combination of spice, crunch and sweetness, a definite all-rounder with cute autumn vibes.
But there's more to Biscoff than meets the eye. While you can munch them in their original biscuit form, there's a whole host of things you can do with them – which is one of the reasons they're always stocked in our cupboard here at The Ice Co! And since you're here, we're guessing you love the little crunchy biscuits too!
If you're looking for Biscoff recipes, you're in the right place, because we've put our heads together to bring you the best Biscoff recipes for you to try at home this Autumn.  So, without further ado, here's a list of our favourite Biscoff recipes that we definitely think you should try!
Or for more Autumn drink inspiration, take a look at our article where we create 3 Cinnamon drinks with 1 Honey Cinnamon Syrup!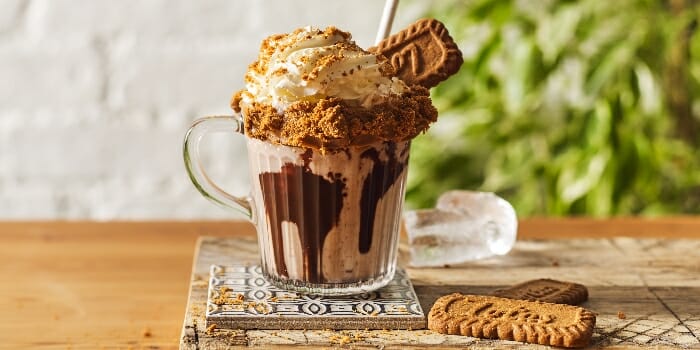 Our most indulgent Biscoff recipe! While many of us might be trying to be 'good' ready for the impending party season, this has to be one of your allowable treats. It's pure biscuity indulgence with a drizzle of chocolate and topped with cream for good measure.
2. Biscoff Iced Frappucino – Get the recipe
We're sure you've been given a Biscoff biscuit with a coffee before – which is testament to how well they complement each other. That's why we love this Biscoff recipe, which combines the delicious sweetness of Biscoff, the slight bitterness of coffee and the richness of cream. It's lip-smackingly good
Favoured by Phil and Holly from This Morning, the Biscoff Iced Latte is a taste sensation to behold! If you're looking for double the Biscoff beautifulness, add two dollops of Biscoff spread instead of one.
4. Biscoff Iced Coffee Float Affogato – Get the recipe
While this Biscoff recipe looks fancy, it's actually really easy to make! The ideal iced coffee recipe if you're entertaining, it looks the part and tastes amazing too. Don't forget to have a long spoon to hand to eat any ice cream left in the glass!
5. Banana Biscoff Breakfast Smoothie – Get the recipe
It would be sad times if we couldn't find a way to create a breakfast Biscoff recipe! Here, we've combined nutrient-rich oats and banana with almond milk, Party Ice and Greek yoghurt to create a breakfast to keep you full and tantalise those tastebuds.
Do you have any Biscoff recipes to share? We'd love to hear them! Mention us on Facebook and Instagram and we'll re-share your content.