We have teamed up with Global Mixologist, Channel 4 Sunday Brunch presenter and World of Zing's founder, Pritesh Mody to get his thoughts on how to craft the perfect cocktails for your next summer dinner party. Here's what he had to say!
Showcase your mixology skills by checking out my tips below!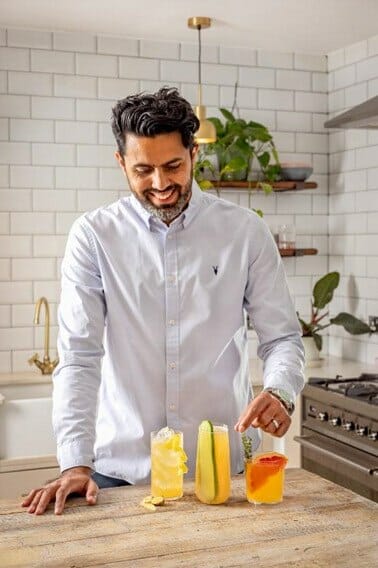 Juicy cocktails need shaking
It's very important to understand the science behind making a cocktail – they call it 'mixology' for a reason! Shaking a drink allows you to reach optimum cold temperature as opposed to stirring and dilutes the flavours more which is great for creating a balance between fruit juice and alcohol.
Shaking is an art and there's definitely a skill to it – make sure you have a firm grip on your cocktail shaker, and then shake well. Ten seconds is a reasonable amount of time to shake but it all depends on the recipe. Having high quality ice is a must for this motion as you want solid cubes that won't turn into slush in a matter of seconds.
Pornstar Martinis and Tropical Spiced Rums are perfect for being shaken, not stirred – so put your licence to chill and Polar Cube ice cubes to use!
Boozy drinks need stirring
Stirring your cocktail allows for flavours to be combined in a less aggressive manner than shaking and eliminates the risk of dilution as there's less ice water that is susceptible to mixing in with the ingredients of your drink.
As stirring drinks balances the concentration of spirits more evenly than shaking, you want to focus this movement on spirit-based cocktails that are fully constructed using spirits, bitters, and tonics.
Stirring requires a gentle technique and often a tool – a long-handled bar spoon is ideal but whatever stick-like object you have lying around the house will work too. You want to stir slowly in a circular motion. A 20 second stir should be sufficient for most drinks – you don't want to over-stir as this will cause the ice to melt, which defeats the point of stirring.
Choosing the right ice is paramount for making the best cocktails and Super Cubes are perfect for dinner party drinks! These super-sized ice cubes are made with natural spring water to complement superior drinking occasions. The very best you can get, they melt extremely slowly therefore chilling your drink quickly, but without diluting. Not only this…but they look great in the glass – so your guests will definitely be impressed.
Get your stir on with a Negroni or Manhattan using Super Cubes!
Creamy drinks need blending
Blending is the best way to make a creamy cocktail. Combining citrussy fruits with cream results in disaster as the acids in the fruits can cause the dairy to curdle – and that won't be pretty (or tasty!). Mixing in other ingredients like vodka and coffee are great for a smooth, boozy milkshake-like drink.
If you want a stand-out cocktail to entice your guests, I recommend these recipes:
Blended G&T
This fun drink creates an ultra-refreshing cocktail sensation.
Ingredients:
x1 handful of Party Ice
x2 measures of gin
x¼ grapefruit juice
Top up: Tonic water
Garnish: Grapefruit wheel
Method:
1. Combine gin, grapefruit juice and a handful of Super Cubes ice and blend.
2. Pour into a tumble style glass and top with tonic.
3. Garnish with a grapefruit wheel and enjoy
STRAWBERRY NEGRONI
Sipping on a bitter-sweet aperitif is the perfect dinner party drink, being the ideal foil for a delicious meal. Here's my lighter summer inspired Negroni using luscious strawberry to enrich the sweeter side of the drink.
Ingredients:
x3-4 Super Cubes
x25ml Campari
x25ml gin
x35ml Lillet Rose
x1 crack of black pepper
x5ml strawberry syrup
Garnish: Lemon slice
Method:
1. Fill a tumbler with Super Cubes, followed by the Campari, gin, Lillet Rose, black pepper and strawberry syrup.
2. Stir it until chilled.
3. Then, garnish with a lemon slice and serve.
For more summer inspo check out our Summer On Ice page here: www.theiceco.co.uk/summer-on-ice