Gaynor Brown, mother of four, from Leicester, was crowned the winner of national competition, An Icy Christmas, and received the ultimate winter wonderland garden makeover just in time for Christmas, courtesy of The Ice Co.
In a bid to spread some festive cheer, amid the ongoing cost-of-living crisis, Gaynor and her family were selected by the public to win The Ice Co's competition, and have her garden transformed into the ultimate, icy winter wonderland.
As a mum to four sons with sensory processing disorder, autism, ADHD and Tourettes, Gaynor and her family often find it difficult to partake in public Christmas events, due to the loud noises and large crowd, meaning they tend to keep their festive celebrations to within a close circle of family and friends.
However, the family say their new garden transformation allows them to 'feel included' this Christmas. Speaking about the transformation, Gaynor said: "I was totally shocked to find out I'd won. This has been amazing for my family – the boys were completely over the moon with their new garden, and that they met Santa in their own home!
"We'd kept the day a complete secret from the boys, so that they would be totally surprised when they came home from school, and it was so worth it to see the reaction on their faces!
"It can be difficult for us to join in with traditional festivities because we have to be careful of large crowds for the boys' sakes, but this is just perfect for us to really be able to celebrate Christmas time as a family this year, without any feeling of being left out. This will definitely be a Christmas to remember!"
The makeover came at a time of need, too. The average Brit is reported to spend £185 on Christmas decorations each year1, however this year, the cost-of-living crisis means that 50% of us are looking to cut down on the cost of our decorations.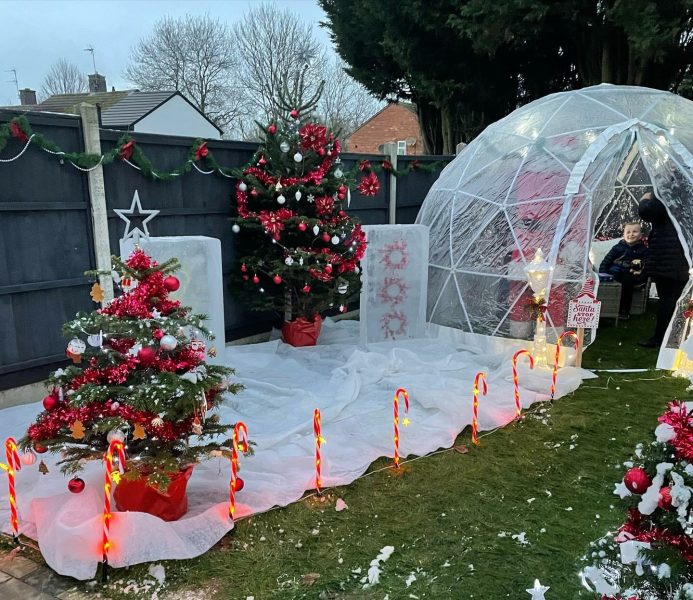 The transformation, worth more than £2,500, included an outdoor igloo, snow, ice blocks, a light-up reindeer, sleigh and lamppost, giant candy canes, traditional Christmas trees and decorations, and even Santa himself!
Lucy Redman, Head of Marketing at The Ice Co, commented: "We know many people will be scaling-back on Christmas decorations this year, so we wanted to spread some festive cheer for a deserving family. And what is Christmas without ice? From icy frost on the ground on Christmas day morning, to the ice in your glass keeping your celebratory drinks cold, it's a staple of Christmas time!
"We've loved seeing the reaction from Gaynor and her family, and we hope the family will be able to raise a glass and share the Yuletide joy inside their new, exclusive winter haven.
"We wish them all a truly magical Christmas!"