Cold plunges have skyrocketed into popularity over the space of the last few years, from the boom in wild swimming during the COVID years to the more recent at-home ice bath craze. But no one is more to blame for this increase more than the Iceman himself, Wim Hof.
Wim is a pioneer in teaching the world how breathwork and cold-water exposure can benefit anyone and everyone who opens their mind to it. As well as holding multiple cold exposure-related world records, Wim is the creator of The Wim Hof Method, which teaches you how to utilise oxygen and cold exposure to optimise your body & mind.
As Europe's largest ice manufacturer of course we had to see for ourselves what all the fuss was all about! Our Marketing Team were invited by our lovely friends at Root2Rise to attend their Wim Hof Fundamentals course, where we would learn the science behind the methodology as well as experiencing the benefits firsthand! Prior to our workshop, Root2Rise tasked us with a 30-day shower challenge to familiarize ourselves with the cold and get used to focusing on our breathing, to make the thought of tackling the ice bath on the day that little bit easier.
A Warm Welcome from Root2Rise
We arrived at their stunning space near Malton, situated right by the river and instantly felt relaxed and at home. As we enjoyed a soothing welcome tea, Natalie and Jim introduced themselves and talked us through the schedule for the day, highlighting the Wim Hof Method's 3 pillars which we would cover: Breathing Technique, Cold Exposure & Commitment.
Understanding the Science Behind the Method
It's key that you understand the science and breathwork behind the method to truly commit to the cold-exposure, so we gathered together to learn before trying it out for ourselves. We found that there are many ways in which breathwork benefits the body, both mentally and physically, and that understanding the science made us a lot more open to the potential of what the body is capable when you commit to it.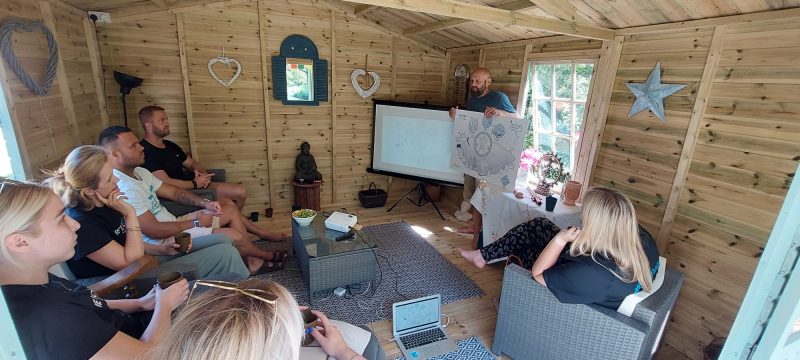 One of the most interesting points we learnt was that normal breathing doesn't use your lungs to their full potential, so when they are being used to full capacity during breathwork sessions, your body is actually alkalizing itself, dropping in CO2 levels to combat acidity in the blood which is a cause of many common, often debilitating diseases. After our learning we came together to join in a guided breathwork session led by Jim, accompanied by their therapeutic singing bowls and gong, for a truly unforgettable experience.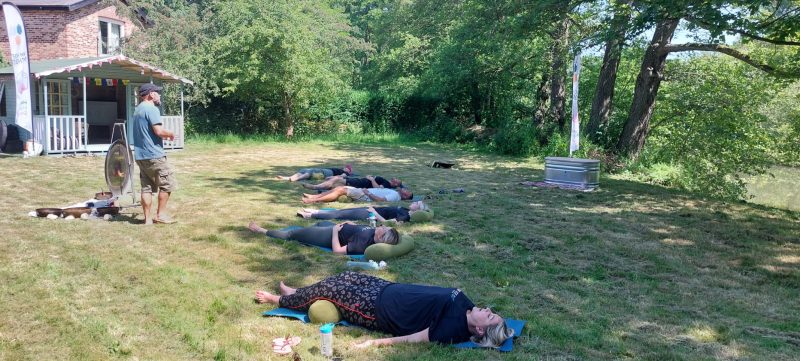 This lead perfectly into understanding the science behind cold water exposure, which was great to delve deeper past the more well-known benefits to understand the changes happening in the body. Beyond the short-term boost in dopamine and feeling of mental clarity, the cold water causes blood vessels to narrow in order to direct blood to your vital organs, so then when you emerge they expand, pumping oxygen rich blood back to your tissues and removing waste like lactic acid and inflammation.
Other cold water therapy benefits include helping your immune system and metabolism by stimulating the production of brown fat, decrease in tension and fatigue as well as noticeable improvements in inflammatory skin conditions. As humans we are supposed to experience stress, as it was an integral part of survival thousands of years ago, but only in small doses. Cold water immersion gives you a small, quick dose of stress which is actually beneficial for the body and regular plunges can help you to combat and alleviate stressors that arise in other areas.
To get the benefits of cold-water therapy, you can plunge in water 12°C and below, we'd recommend starting with cold showers to build up your tolerance before though! 2 minutes in the ice bath is enough to feel the benefits and as a beginner this should be your maximum time, but you can begin to increase this if you wish over time as your body's tolerance increases.
Ice Bath Time!
After we'd covered the science it was finally time for us to take the plunge! Filled with 80kg of our Party Ice we each took turns to approach the tub, practicing our breathwork and cheering each other on from the sidelines. After a few rounds of short breaths in and long breaths out, we settled into the ice bath, controlling our breathing and aiming for our 2-minute target, which each member of the team smashed!


Then came the warming up, and arguably the most crucial part of the day as it can often be overlooked! Wim's preferred method is the Horse Stance which activates one of the bodies largest muscles the quads to warm your body from the inside out, whilst twisting from side to side to activate your intercostal muscles and imitate the act of shivering. A general rule of thumb is to spend as much time warming up as you spent in the ice bath but through movement like the horse stance not cozy blankets or warm showers as this artificial heat can cause an after drop. As a team we gathered round the firepit to warm up together in true Wim Hof style, all absolutely buzzing after our cold-water dip!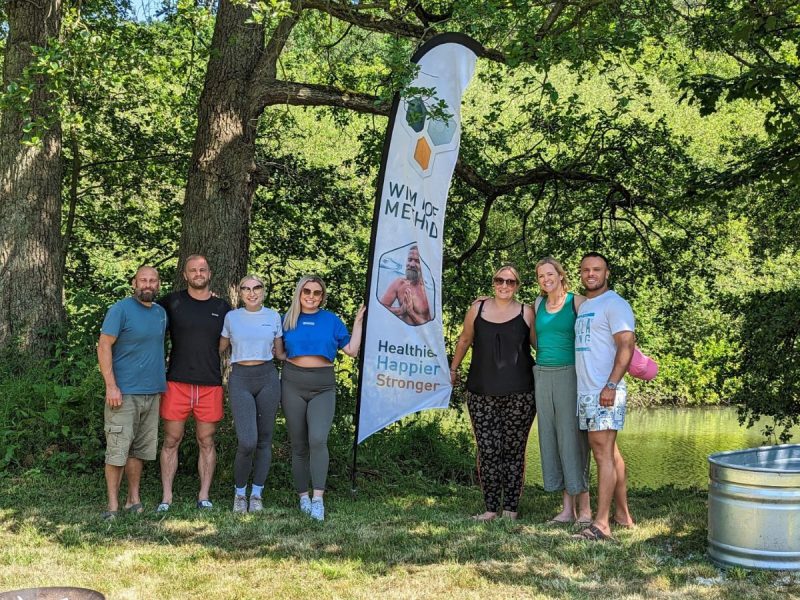 The Aftermath
We left the workshop feeling truly in awe of what the body is capable of and with learnings we could continue to practice daily, with no cost! Since the workshop our team has been practicing breathwork and cold-water exposure each for their own reasons and have already seen the benefits the method can offer in our everyday lives!
Whether you are looking to improve mental or physical performance, boost the immune system, relieve symptoms related to an illness, or are just curious to find out what the Wim Hof Method is all about— a WHM workshop offers something for everyone and we would definitely recommend Root2Rise for anyone looking to learn more!
To book a Wim Hof Fundamentals Course with Root2Rise check out their website here.