Bonfire Night is the last big event in the calendar before the festivities can officially begin, but with the cost of living crisis affecting all of us how can we celebrate without spending an arm and a leg? We've covered everything from food and drink to activities you can do from the comfort of your own home, putting everything into one handy shopping list to make planning your night in as easy as possible!
Shopping List:
X 2 packs 500g Beef Mince = £2.49 x 2 = £4.98
X 2 tins chopped tomatoes = £0.35 x 2 = £0.70
X 1 tin red kidney beans = £0.33
X 2 red onions = £0.21 x 2 = £0.42
X 2 Chilli Con Carne Recipe Mix = £0.95 x 2 = £1.90
X 1 box boil in the bag rice = £1.20
X 4 packs apples = £1.70 x 4 = £6.80
X 1 bag caster sugar = £2.20
X 1 bottle golden syrup = £1.55
X 1 bottle vinegar = £0.29
X 2 bags Party Ice = £1.25 x 2 = £2.50
X 1 bag Super Cubes = £1.25
X 1 200g bar Milk Chocolate = £1.30
X 1 pack rich tea biscuits = £0.65
X 1 pack Marshmallows = £1.10
X 1 pack oranges = £1.50
X 1 bottle vodka (35cl) = £10.75
X 1 bottle cloudy apple juice = £1.70
X 1 pack mini cake sparklers = £1.50
X 1 bottle caramel syrup = £3.25
Total:  £45.87 (Based on shopping at Tesco, correct as of (31/10/2023)
Use a big batch recipe to save £'s per portion
Slow cookers are a party hosts best friend, not only does it take minimal prep time but it's also a lot more cost effective! Slow cookers are notably cheaper to run than an oven and by cooking a singular meal in bulk you can feed lots of people for a fraction of the cost of smaller individual dishes. Our go to options include a fiery chilli con carne to warm up your guests after standing out in the cold or a hearty stew.
What's Bonfire Night without a toffee apple?
Toffee Apples are a seasonal favorite and can be easily made at home using things you'll likely already have in the cupboard! Luckily because of our little hack we didn't have to wait long to enjoy them either, instead of leaving them to cool we added our toffee apples to a bucket filled with Party Ice, ready to serve in minutes!
Ingredients:
8 Apples
400g Caster Sugar
1 tsp vinegar
4 tbsp golden syrup
X 1 bag Party Ice
Method:
Add the apples to a bowl and cover with boiling water to remove the coating. Dry and push a skewer into the stalk end of each apple.
Add the sugar to a pan with 100ml water over a medium heat. Cook for 5 minutes or until the sugar dissolves before adding the vinegar and golden syrup. Boil the mix until it reaches the hard crack stage, you can test this by pouring some into a bowl of cold water. If it hardens and becomes brittle then it's ready, if you can squish it still continue to boil.
Once ready dip and twist each apple in the toffee until covered, letting any excess drip away then add straight to a bucket filled with party ice to cool.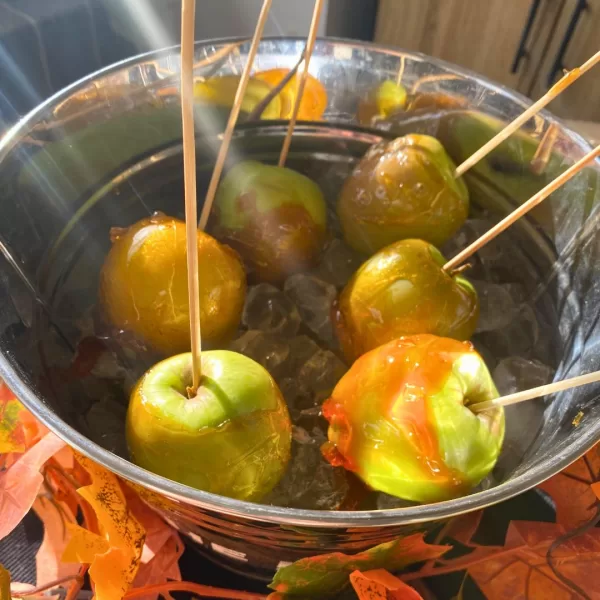 Add some wow factor with your drinks garnishes
We've been creating lots of delicious autumnal drinks this year, but none felt more perfect for the occasion than this Toffee Apple cocktail complete with its own sparkler! Often used on birthday cakes, mini sparklers can be found next to the candles in most supermarkets and make the perfect garnish for any bonfire night cocktail. Check out the full recipe for our Toffee Apple Cocktail below.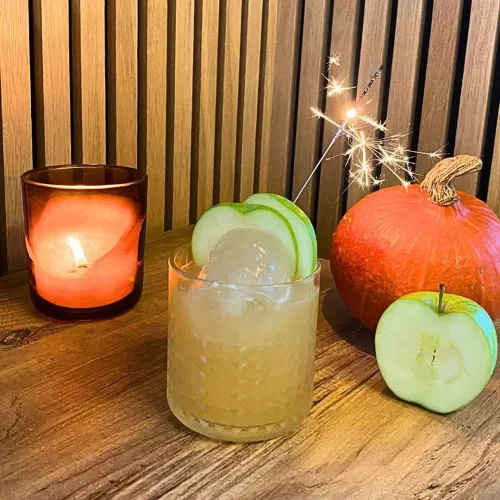 One of our favourite mixologist tricks that works great for bonfire-themed parties is the famous flaming orange peel. A popular garnish for many classic tipples, you squeeze the orange peel next to a flame over your drink, then step back and watch the sparks fly! This one takes a little bit of practice to get right but once you've mastered it, it'll be your new favorite party trick!
Get a quick sugar fix with some S'mores
S'mores are more than just a snack, they're also a great way to keep the kids busy! In the UK, it's not often we can guarantee the weather being dry, so if it's too rainy to get the firepit out just make use of the hob instead. To make our quick and easy smores we added rich tea biscuits to a tray with a few squares of milk chocolate on top and put these under the grill until the chocolate had started to melt. In the meantime, we switched on the hob, added our marshmallows to a skewer and toasted them over the flame until blackened slightly, before sandwiching them in between one chocolate-topped biscuit and a fresh one from the pack – voila, super easy s'mores!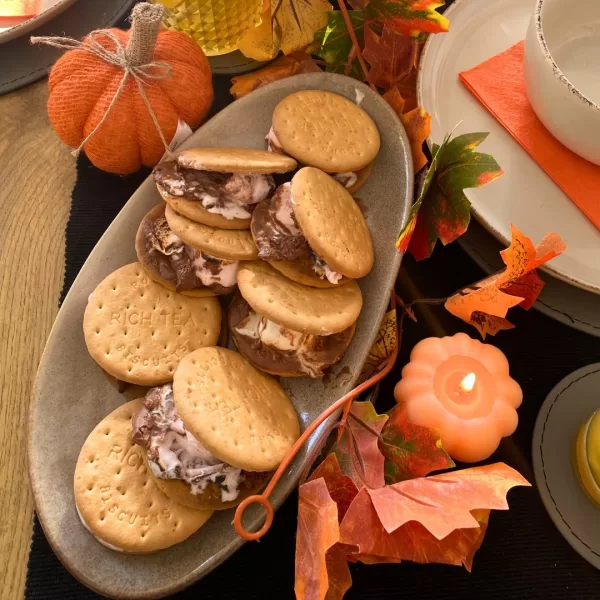 Add some nostalgia to the evening with Apple Bobbing
For a proper throwback that'll evoke the competitive spirit in guests young and old, set up an apple bobbing station! All you need is a big tub or bucket that you can fill with water and apples, then just take it in turns to try and grab one without using your hands!