Spooky season is here, and we won't let the cost of living stop us from having a good time! It's all too easy to go overboard and spend a fortune, but Halloween parties don't have to cost a bomb to be memorable. We've put together some of our favourite budget tips across food, drinks and décor in the hopes that no one has to go without having a spooktacular night this Halloween! We've even included a shopping list so you can spend less time planning and more time having fun!
Shopping List:
X 1 can Lychees – £1.50
X 1 tub whole Glace Cherries – £1.65
X 1 bag of raisins – £1.85
X 1L Blueberry Juice – £1.85
X 1L Cranberry Juice – £1.20
X 1L Sparkling Water – £0.75
X 2 bags Party Ice – £2.40
X 1 bag Marshmallows – £1.25
X 1 roll Bin Bags – £1.29
X 1 roll Puff Pastry – £1.02
X 1 tin Hot Dogs – £0.70
X 1 jar Honey £0.75
X 1 pack Edible Eyes – £1.55
X 1 200g bar White Chocolate – £1.30
X 1 Freddo Bar – £0.25
X 1 pack wooden skewers – £2.00
Total cost: £22.61 (Based on Sainsbury's as of 19/10/23)
Get creative with your edible garnishes
Garnishes are a great way to add a spooky touch to any cocktail and we've created this fruity kids punch that's guaranteed to give your guests a fright. This "Eyeball" Lychee Punch is quick and easy to make and your little ones will have lots of fun making the gruesome garnishes ahead of time.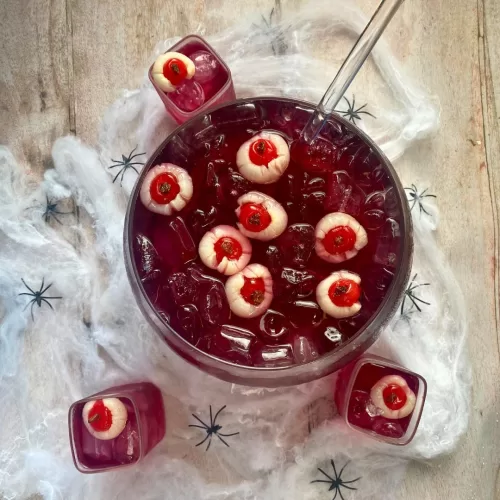 Now for the grownups, whilst you could just add a spirit of choice to the above recipe to create a boozy sharing cocktail, we've got another little trick for you to try. Melt marshmallows in the microwave and give a minute or so to cool slightly. Then dip your fingers into the melted mixture and spread across the top and rim of the glass, stringing the marshmallow across the rim to create a spider web effect. Leave these to harden then strain in your cocktail of choice, avoiding the "web" to add a spider's touch that's also sweet and delicious!
Make cheap and easy decorations using things from around the house
Bin Bag Spider Webs
You'd be surprised at what you can do with things you have lying around the house to give your space a haunted vibe. Take a large bin bag (the cheapest ones are the easiest to cut) and cut off the bottom and down the two sides to create 2 rectangles. Fold corner to corner into a triangle and cut off the excess to make a square, then fold again in the same way into a smaller triangle and then fold again. Finally, fold once more to make a cone shape. Tape down the open edge to keep the shape together and cut the excess off the bottom of your cone into a curved shape (like the outside of a web!)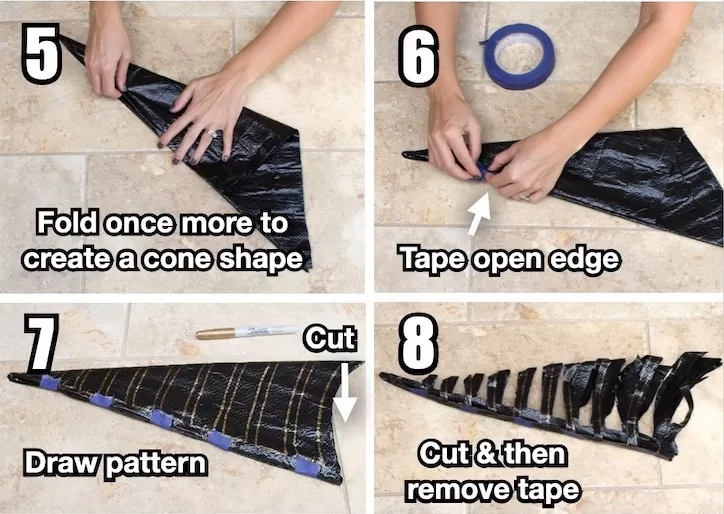 Draw your pattern onto the bag like below, then cut making sure not to cut into the taped edge leaving at least an inch gap from here so that the web stays together. Remove the tape, once finished open it up and pull apart to get your two spider webs!
Create Creepy Eyes with Leftover Toilet Rolls!
Now this tip is one of our favorites, using nothing other than old toilet and kitchen roll tubes. Draw spooky eye shapes onto your leftover tubes and then cut out the holes. Add a glowstick inside them then hide your eyes around the house & garden to give guests a scare!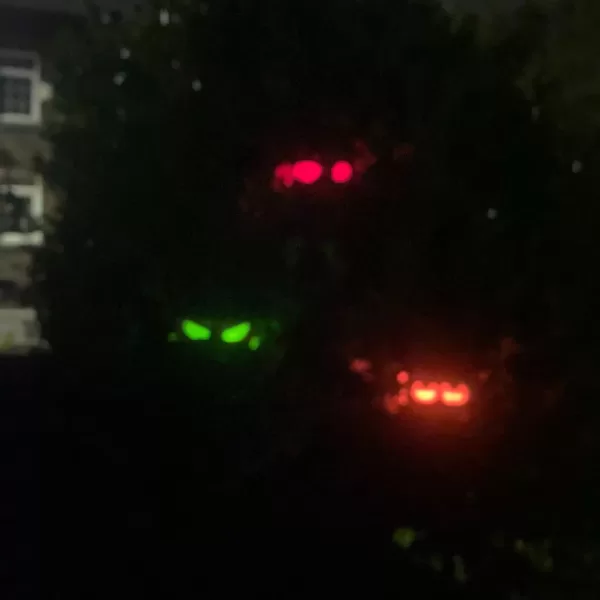 Spooky snacks don't have to break the bank
Party food is always better when it requires minimal preparation, but instead of buying lots of premade Halloween-branded snacks we've got some budget-friendly options to try at home! Take a look at our recipes for our spooky mummy sausages and chocolate ghosts below.