At The Ice Co, our Annual Charity Day is always one of the biggest days in our calendar and 2023 did not disappoint! Over 100 employees across all departments came together to raise a tremendous amount of money for charities that were closest to our hearts, and as usual, we had nothing but a blast doing it! With the huge success of our "Ice Games" last year, we stepped it up a notch and invited employees to put their best foot forward in The Icy Dash, a relay style race through a giant 100ft inflatable assault course.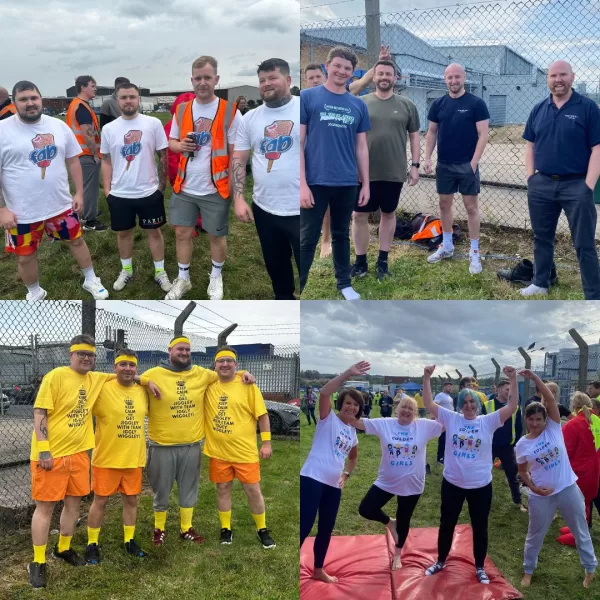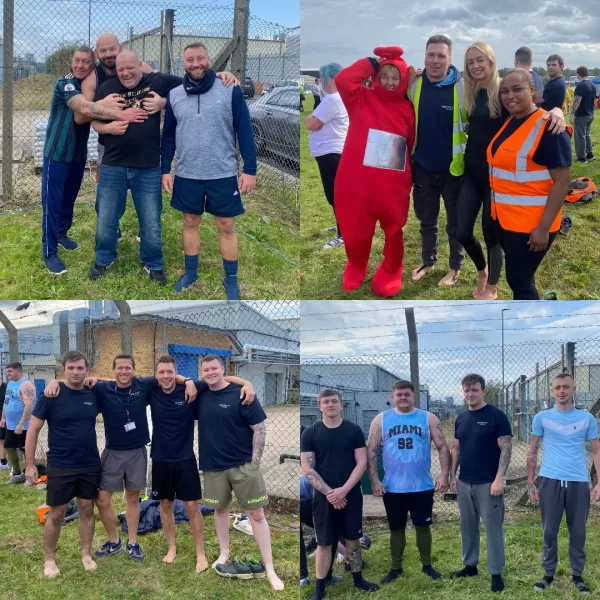 Eight teams battled it out in heats to get a spot in the top four with the fastest time, with our speediest dashers going head-to-head in the semi-finals to see who would take the top spot. After making their way through the course for the 3rd and final time, "2 Baldies, A Fat Lad and A Sheila" were crowned the winners of The Icy Dash and were each gifted a bottle of spirit and a sparkly gold trophy!
Arguably the real winners we're the ones in the crowd, who got a front row seat to the hilarious carnage unfolding across the course, which you can see some examples of below…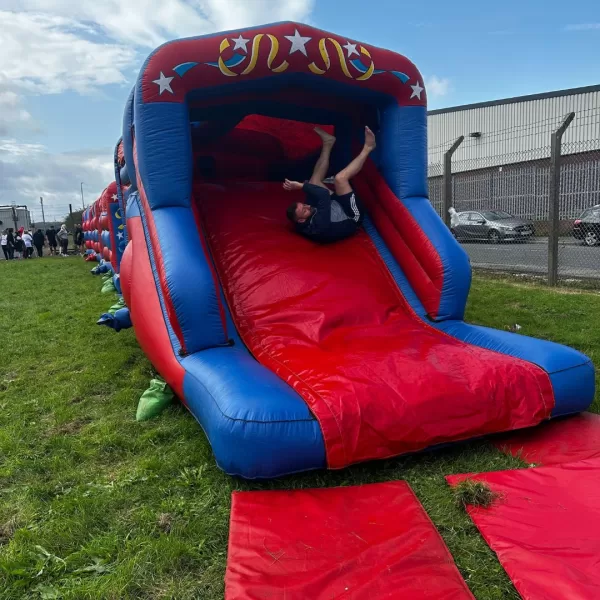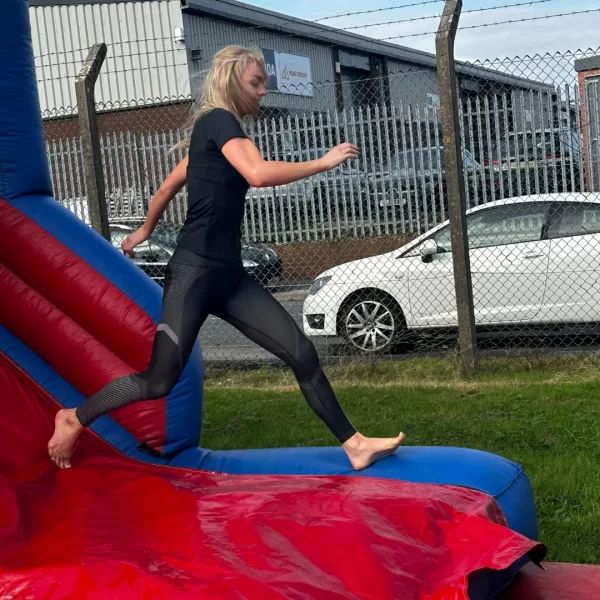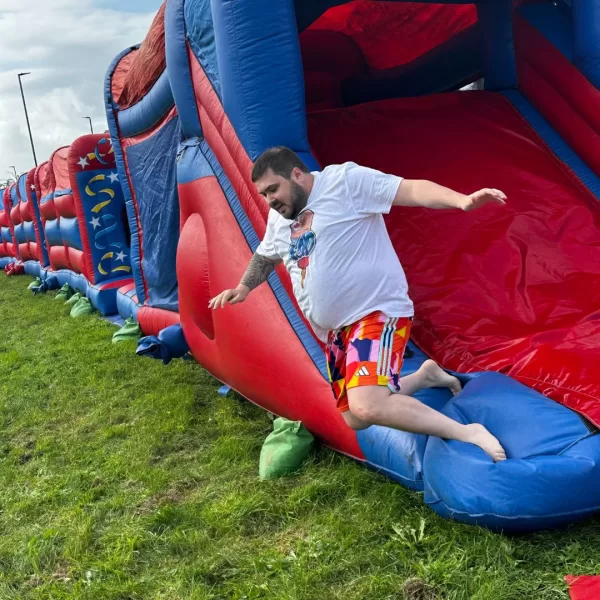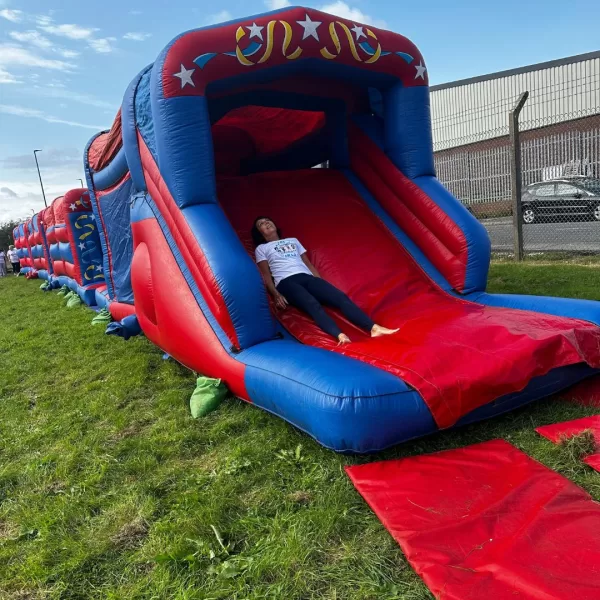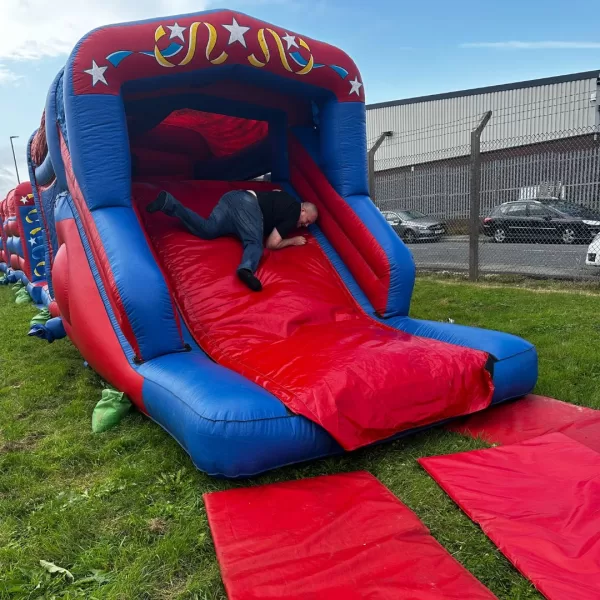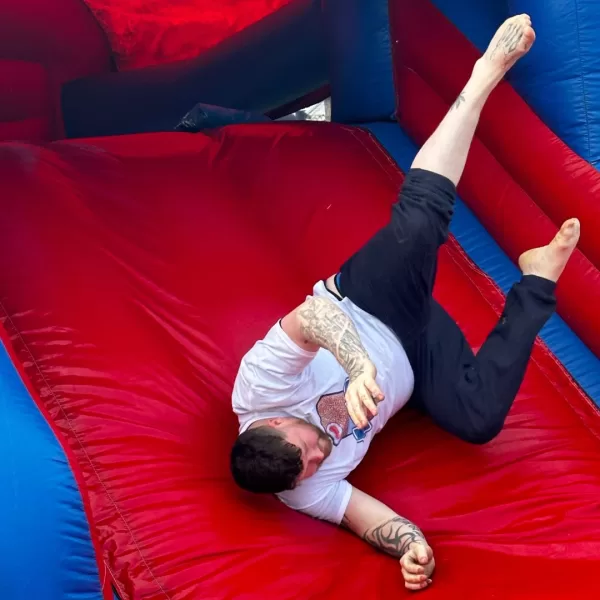 Of course, it wouldn't be Charity Day at The Ice Co without our traditional ice bag throwing, where for a small donation staff we're given the chance to flex their muscles and see who could throw a bag of Party Ice the furthest! It was a close competition but ultimately there could only be one winner so congratulations to Jack who took the top spot this year. Amidst all the excitement, everyone was kept refreshed with ice-cold drinks, enjoyed gourmet burgers & fries for lunch as well as a mouth-watering brownie from our friends at Brown and Blond for dessert!
As always, the aim was to raise as much money as possible for the charities nominated by our team in the lead up to Charity Day, and on the day our incredible staff raised an amazing total of £1922! With the company donation we smashed last years total, raising an amazing £18,000 for 21 deserving charities. Here's who The Ice Co will be supporting this year:
Pipers Pathway, SESKU Community Cupboard, Prostate Cancer UK, Huntington's Disease Association, Help 4 Homeless Veterans, Tommys, Tiny Hands Baby Bank Yorkshire, National Autistic Society, Martin House Childrens Hospice, Rett UK, MNDA, Wakefield Hospice, The Clothing Bank, Yorkshire Children's Charity, Barnardo's, St Leonards Hospice York, My Hospitals Chairty, Worldwide Fund For Nature, Lucies Animal Sanctuary, Mayflower Animal Sanctuary and Bradford Cat Watch Rescue and Sanctuary.
We want to extend a massive thank you to all of our incredibly generous suppliers who donated prizes for our main raffle Sovereign Health, Craft Gin Club, Hatch Group, Lindum Packaging, Henley Festival, PARC Global, Arco, Food Clean, Next Chapter, RCN, We Are CODA, Subz, Castleford Tigers, C&S Water Treatment, Booker, Four Seasons Harvest, Softcat, Lemon Cherry, Hotel Chocolat, PR Services, Blackrow, Steve Hodgin Plumbing & Electrical, ESC Global, WRMH, Echo Packaging and Palic.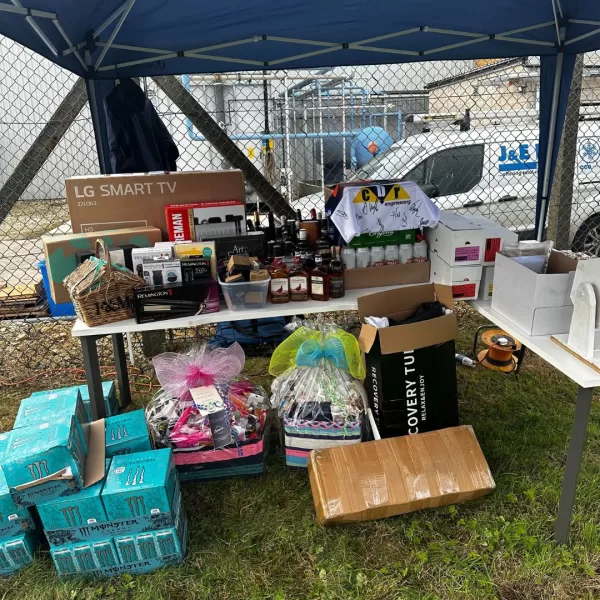 We had so many special gifts up for grabs including festival tickets, hotel getaways, wine experiences, ice baths, hampers and so much more. This would not be possible every year without your generosity, you're amazing and thank you for your continued support!
Watch our round-up of the day below!
We're already counting down the days till the next one and let's hope we can raise even more money next year for some more deserving causes!