Struggling to keep the romance alive whilst simultaneously saving up pennies for Christmas? Lucky for you, we've put together the perfect guide to a fun and affordable date night for you and your partner, which allows you and your food palettes to escape the country without leaving the front door! A supermarket budget three-course meal including wine is available in most cuisines these days, but The Ice Co. have decided to take you to Italy with a budget date night for under £20!
Most importantly, our three-course, easy-to-make recommendations encourage you to explore an alternative to a date night in the city or a restaurant. Instead, it motivates you both to eat traditional Italian food together on a Tesco budget, the only thing missing from Italy? Well, the weather! Which is why there has never been more temptation to stay in!
If you have seen our reel, you'll have seen we have incorporated the "pick a note" date night trend into our evening, which is an excellent way to keep date night fun on a budget! If using our recipe, find step-by-step instructions below for you and your partner to cook together in the comfort of your own home. Step numero uno – get your pinot chilling in a bucket of Party Ice!
INGREDIENTS
STARTER- Classic Italian sharing bruschetta
Tomatoes
Basil
Garlic
Balsamic
Olive oil
Baguette
Onion
MAIN – Gooey Spicy (or not!) Baked Gnocchi
Gnocchi
Sauce
Buffalo Mozzarella
Onion
Basil
Garlic
DESSERT – Tiramisu with cream
DRINK
Bottle of Pinot Grigio
Polar Cube ice
Party Ice
SHARING BRUSCHETTA (6 MINUTES COOKING TIME)
The key to an intimate date night is sharing! That's why we recommend starting with a sharing bruschetta. Begin by grabbing the baguette and popping it under the grill until nicely toasted. Whilst one keeps check on the baguette, the other can prepare the classic Italian topping by dicing tomatoes and onions, then combining in a bowl with olive oil. Once your baton is toasted, place it on a sharing board and add the bruschetta topping. Drizzle balsamic vinegar and scatter fresh basil over for that extra punch of flavour. This should take no more than 6 minutes and costing a total of £2.17 (excluding oils) it is perfect for saving whilst not affecting taste!
Note: The Pinot Grigio should now be the perfect temperature to pour over some Polar Cube ice in a glass whilst you enjoy!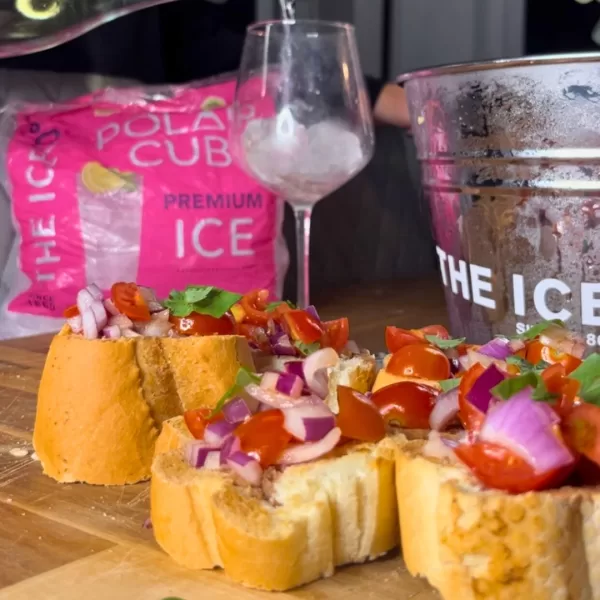 GOOEY BAKED GNOCCHI (15 MINUTES COOKING TIME)
Now, we are ready for the main event! Make sure you top up your glass ready to cook the gooey baked gnocchi main, top dating tip – never let one another's glass get low! So whilst you top up, ensure you have your oven on at 190 ready for baking. Begin by dicing onions and 1-2 garlic cloves and place them in a large oven-use frying pan over olive oil for up to 5 minutes before adding in your tomato and basil meatball sauce. Now add the gnocchi and allow it to cook in the sauce for 10-12 minutes. Depending on your spice tolerance, adding a teaspoon of chilli puree or flakes as it cooks is a nice alternative if you fancy that extra kick!
Once the pasta feels perfectly soft, slice two packets of buffalo mozzarella and place over the gnocchi in the shape of a flower to ensure every section is covered. Now it's time to bake! Place your pan (ensuring it is oven use) into the oven and bake until the mozzarella is noticeably gooey. Again, place on a sharing board and scatter fresh basil on top for added flavour. Whilst serving, if it is an abundance of stringy cheese and a little bit messy, you know you've done it right. Pinot Grigio is the perfect pairing with gnocchi, so make sure you top up your glass with Polar Cube ice to ensure you have a perfectly chilled glass to sit back and enjoy, knowing you've made this all for £5.63!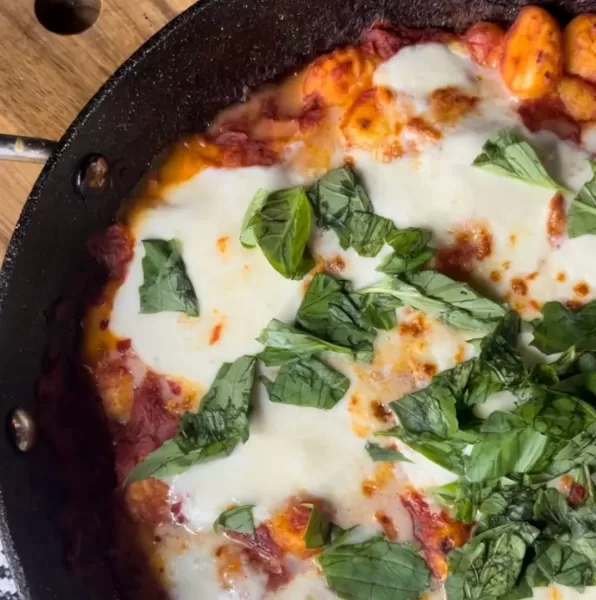 SHARING TIRAMISU
Lastly, we're going to suggest an alternative to having dessert at the dinner table or on the sofa. Instead, how about creating a cosy space for you both out of blankets, pillows, and fairy lights to keep things new and exciting. Ready-made sharing desserts are perfect for date night and super affordable if on a small budget, we recommend Tesco's sharing tiramisu to finish – save time spent washing extra dishes by grabbing two spoons and continuing the sharing theme into the night. Guilty of spending more time flicking through what to watch on Netflix than anything else? Try writing down your choice of film or series and get one of you to choose without looking. Now it's time to sit back, relax and enjoy one another's company, finding pleasure in the pairing of the tiramisu's sweetness with the dryness of the pinot – made extra refreshing with Polar Cube ice!
Watch the full reel below:
At The Ice Co we're especially conscious of how the cost of living is affecting everyone, see more of our at-home date night inspiration here and why not try some of our hand-picked cocktails here for your next night in!