This Friday is V.E. Day which marks the end of World War Two when fighting in Nazi Germany came to an end…hence it stands for Victory in Europe Day.
Prime Minister Winston Churchill led the announcement at 3pm on 8th May 1945, after Germany had surrendered the day before.  As a reminder of this moment, the Queen will be doing an announcement at 3pm this 8th May 2020 at 3pm also.
We will have to change the way we were originally going to celebrate this day now, whilst we Stay Home to protect each other however we still want to use the day to learn, remember and celebrate as they did back in 1945.
Here you will find our child friendly Top Tips to make the most out of V.E. Day this week….and it is set to be a scourcher so you can spend lots of time outside in the garden too!
1. Learn about V.E. Day and why it is we are celebrating
Most importantly, if we are celebrating we want to know why, and appreciate what for. For most of us it will be hard to imagine what it was like not only in 1945 but throughout WW2. So spend some time familiarising yourself with the event.
This BBC video, aimed at KS2 (but will suit most adults too!) is great for a quick summary.
And to learn more, try this website also from the BBC to learn What it is, when is it and why do we remember?
BBC and BBC Bitesize have some fabulous resources for learning about V.E. Day in the lead up so you can prepare for and celebrate the day well.  See More. 
2. Follow the schedule for the day
There is a full schedule for the day, why not join in where you can. Some will be live streamed on television too.
11am – A moment of remembrance  – a two minutes silence to commemorate all those who gave so much during the Second World War
3pm – The Nations Toast followed by Churchill's Speech and address from the Prime Minister – Raise a glass in a moment of celebration and listen back to Churchill's infamous speech followed by an address from current Prime Minister Boris Johnson.
6pm – Katherine Jenkins LIVE from the Royal Albert Hall
9pm – The Queen's Speech – a message to the nation on this special day
9.15pm – 'We'll Meet Again' singalong.
See the full V.E. Day schedule and more information.
3. Eat, Drink and Be Merry!
Arrange a garden picnic with traditionally British Food and Drinks; we're thinking cucumber sandwiches, afternoon tea, scones, Victoria Sandwich…the list goes on! Try these BBC Good Food Recipes for VE Day.
And of course, a great collect of ice cold drinks – see our Totally British Drinks to Enjoy This V.E. Day for ideas! Pimms, Pimms and more Pimms (oh, and 9 other recipes here including alcoholic and alco free choices!)
If you're having a picnic or garden party, don't forget the music. Put Spotify on and play a VE Day playlist for some 1945 music.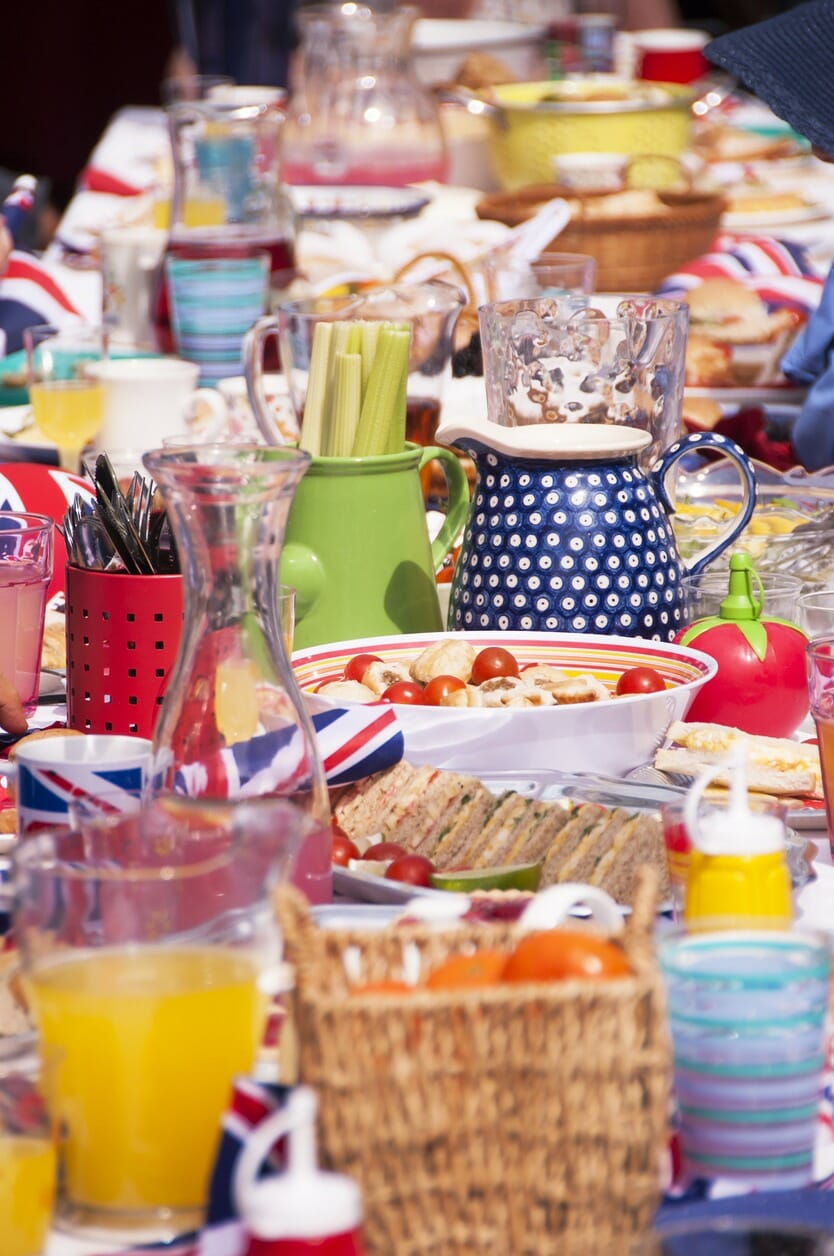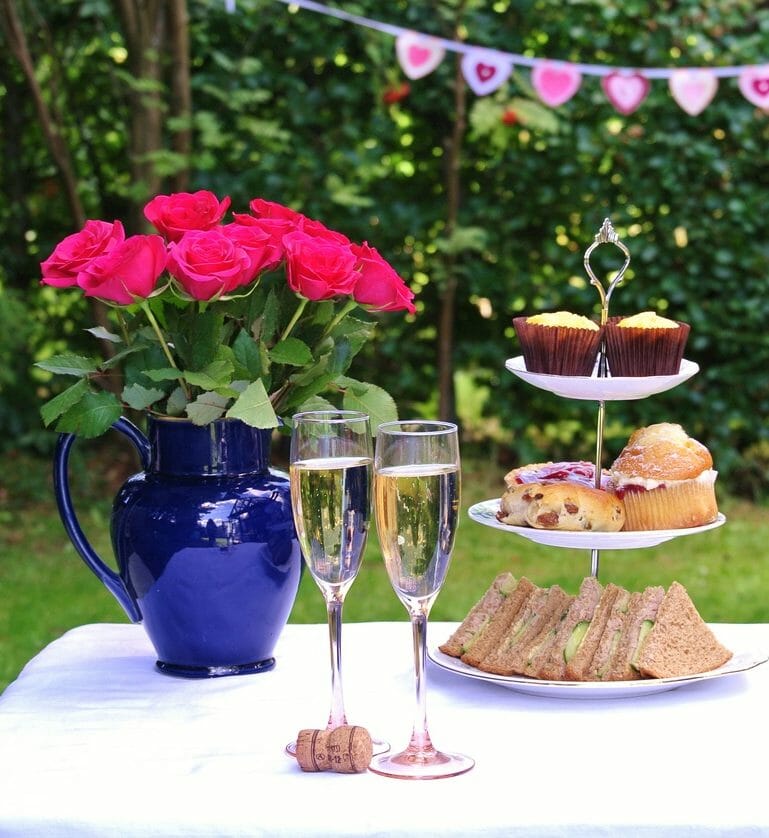 4. Dresscode!
Dress in red, white and blue or fancy dress 1940s style…
Let the kids get inventive with what they might wear, offer prizes for best outfits!
5. Make decorations
You might struggle to buy bunting, but you could make your own. You could use old cuts of fabric, or paint paper in red, white and blue.
Baker Ross have a great range of free printables you can download for the children to print and colour in or paint. Not just V.E. day ones, but NHS and other fun templates you might found useful at this time.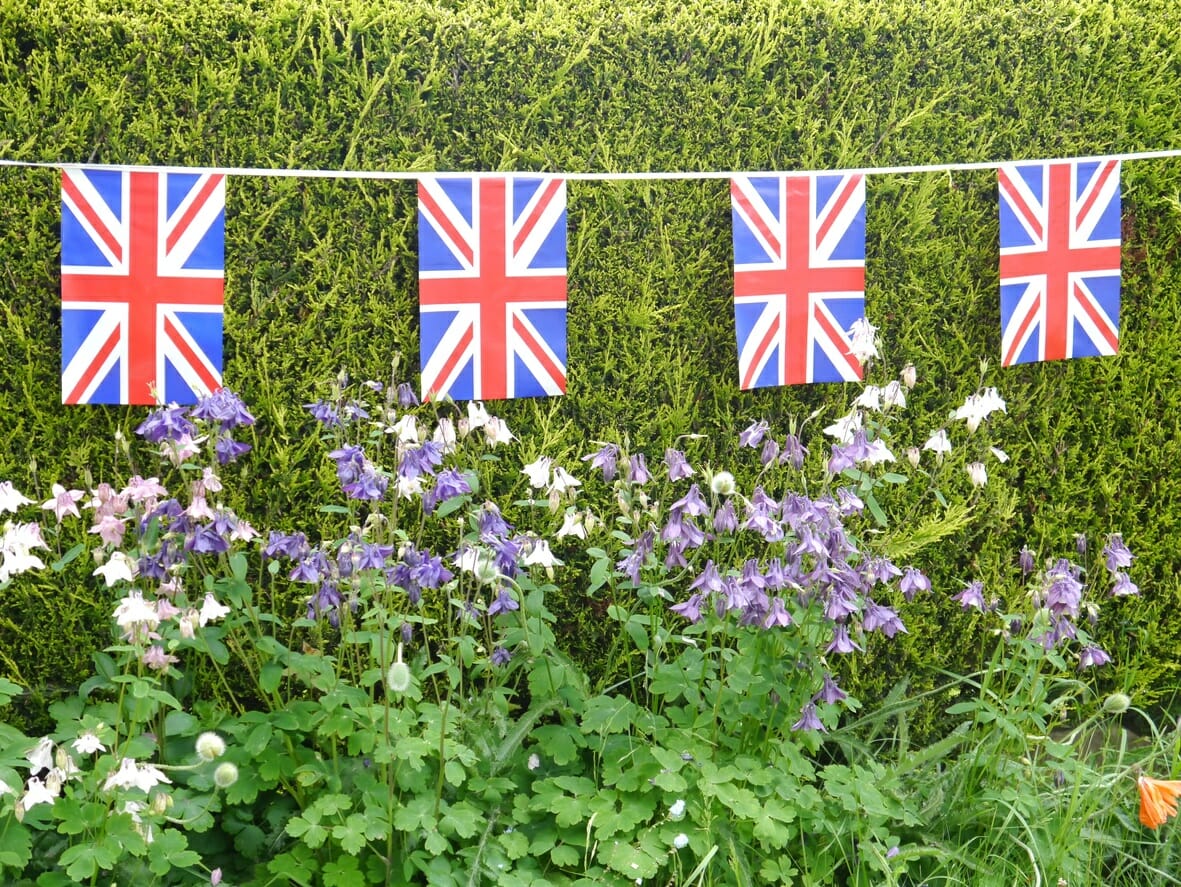 6. Facetime those that can't be with you
Video call those that can't be with you. Elderly relatives (some of them might remember 1945). Ask them about it, include them in your fun and ask if they need anything.
Most of all, enjoy your time together – spend some time to learn and remember the history, then make sure to have some fun, food and drink (don't forget to see our Totally British Drinks for V.E. Day for ideas)! Remember to stay safe, stay home and drink responsibly!