Hosting a barbecue isn't all about marinading meat and supping a beer. It can be the perfect way to catch up with old friends, make a great option for a lads' night in, or even mark a special family birthday.
While the thought of hosting a barbecue, and all the jobs you'll need to do might leave your head in a spin, it's not as bad as you might think. To make your next event go as smoothly as a cool pint of Guinness we've got some top tops on hosting the ultimate barbecue.
1. First thing's first – decide on your cuts of meat
One of the most rewarding parts of hosting a barbecue is choosing your meat and marinades. But before we delve into marinades, let's take a look at how important it is to choose the right cuts of meat for your preferred way of barbecuing. It's all about the collagen. The collagen content of a piece of meat can have a huge impact on how it tastes hot from the grill.
Muscles that don't do much work have less collagen, and are more tender. These are the cuts of meat you'll hear called 'prime cuts'. Cheaper cuts of meat often have more collagen, and are tougher. If you're cooking a piece of collagen-rich meat on the barbecue, you'll need to cook it low and slow which moistens the meat from the inside out. Ever wondered why cheaper cuts are smoked over a long time? Now you know!
2. Marinade your barbecue meat, fish and veggies
You may be a meat purist – and we're fine with that. But if you like chilli chops and saucy steaks, you can have real fun devising your own marinades To get you started, we've got three popular barbecue marinade recipes – just whizz together the ingredients and spread over your barbecue food, before leaving to infuse for at least 24 hours.
3. Pay attention to your drinks menu
If you've been You-tubing the perfect barbecue marinades, you might have forgotten about the other key part of your barby. Drinks! If you're looking to ditch the tinnies and go for a more refined barbecue experience, why not offer your guests cocktails? Making up batches of cocktails in advance can save hassle on the day, or you could even get the ingredients together and create a DIY outside bar, where guests can make their own.
If you can, choose cocktails and other drinks to compliment the food on offer – a chocolate cocktail might have a time and place, but probably won't go down too well with a plate of ribs and sausages!
4. Clean your barbecue
Imagine this, you're ready to start cooking, so go to the garage to dig out the barbecue, which has been stored since last years' festivities, only to find a thick crust of old, mouldy food. Uh oh. Worry not, we've all been there. The good news is, most of the time, barbecues can be salvaged with a good clean.
If your barbecue is beyond repair, it might be time to buy a new one. Depending on your BBQ style, there are some really nifty barbecues on the market. Whether you're after a traditional charcoal barbecue, an easy-to-use gas barbecue, or looking for one with all the bells and whistles like this three in one smoker, you're bound to find one that suits your cooking style.
5. Keep drinks cold
Sipping a cold drink alongside a barbecue feast is essential. While you might not have tonnes of space in the fridge, a little creativity can help you out. If you're going for ice buckets, put the drinks in first and cover with plenty of Party Ice.
Other ideas include re purposing a paddling pool and transforming it into an outdoor drinks cooler, or pre-cooling drinks in the freezer. Another one we've heard of is filling kids sandpits and stacking them like a 3 tier water fountain. Get creative! The crucial part of keeping drinks cold? Having enough ice! Make sure you're fully stocked and have catered for the outdoor cooling stations. You can guarantee on a hot day that everyone will be at the shop trying to find quality bagged ice. Party Ice is available at Tesco, Sainsburys and most local shops.
6. Outdoor seating
With a national shortage of garden furniture, you might have to get creative with your outdoor seating ideas. If you're into woodwork, you can create your own garden seating from old pallet wood fairly easily, or use old crates, blankets and cushions as improvised chairs. Don't forget to have a covered outdoor area set up, a gazebo with some sides on it will do as we can't rely on the great British weather!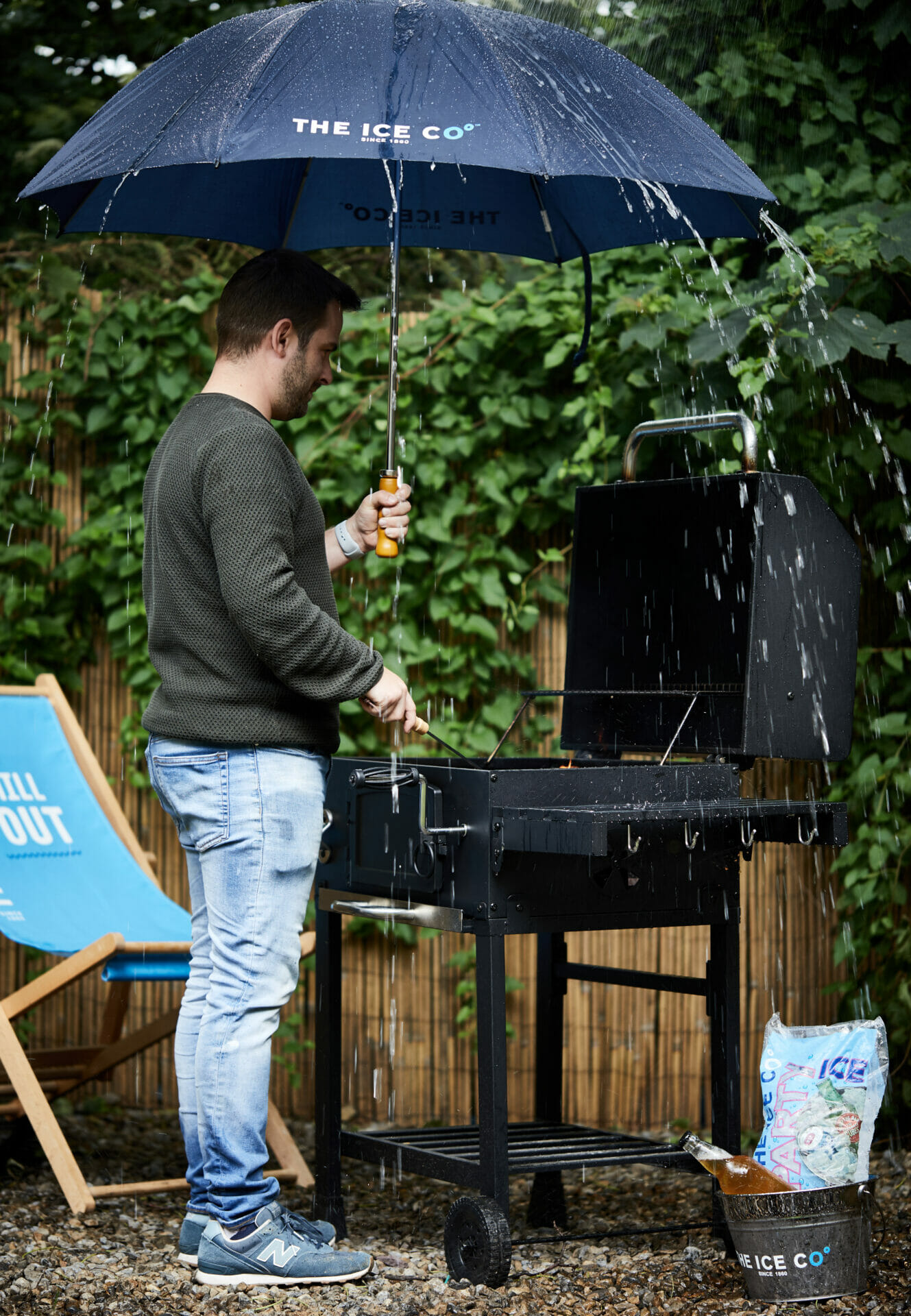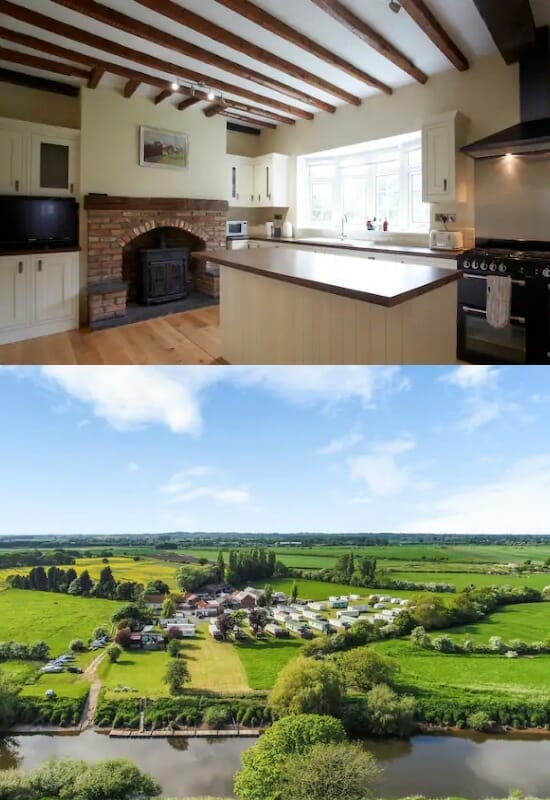 7. Cooking barbecue food
When you're ready cook your food, put it on the barbecue and leave it undisturbed for one minute before turning, and then turn it every minute or so. If your food is on the thick side, turning it regularly can stop it from burning. If you spot yellow flames leap up from the barbecue, beware! It means the fat has caught fire which can leave a strong taste on the food.
Try not to overcrowd the grill and leave plenty of space between the food. If you're cooking meat, check the juices run clear before serving or invest in a meat thermometer, which will only cost a few quid. These can be handy if you're smoking your food, when you might be less familiar with how long it takes to cook.
Finally, if you're cooking meat don't forget to let it rest! By letting it rest, the moisture in the meat is reabsorbed, which makes it even more juicy.
8. Entertainment
When you're hosting a barbecue, you might think you need fancy entertainment. The truth is, when you're in good company and sharing great food and drink, you rarely need anything else. But if you do want to add some light entertainment, you can jazz up the party with an outdoor darts board. Get into competition mode and why not even have a price on offer for the winner. Or how about keepy uppy with an ice cube ;).
9. Order more supplies than you think
Write a list of all the ingredients and supplies you'll need, and then allow for around 20 percent more. We've all got those mates who eat and drink more than they should, and you don't want to be caught short.
Don't forget to stock up on barbecue essentials too, like coal, lighting fluid, gas, a good set of tongs and plastic reusable glassware.
10. Don't forget cleaning supplies
It's the least exciting bit of hosting a barbecue, but one of the most important – making sure you're got enough cleaning supplies. With everyone far more conscious of hand hygiene, you'll need more alcohol hand gel, soap, paper towels and antibacterial products to give things the once over. It's also a good shout to supply a box of face marks, just in case your guests forget to bring one.
Are you hosting a barbecue soon? What are your top tips? Let us know by tagging us on Facebook or Instagram.